You don't have time to deal with hair loss, but if you've recently been pregnant, had to take certain medications due to a chronic illness, or even live a high-stress life, you are likely wondering how to stop seeing clumps of hair at the bottom of your sink drain. You can stop "pulling your hair out" due to hair loss. We're going to tell you how to fix it.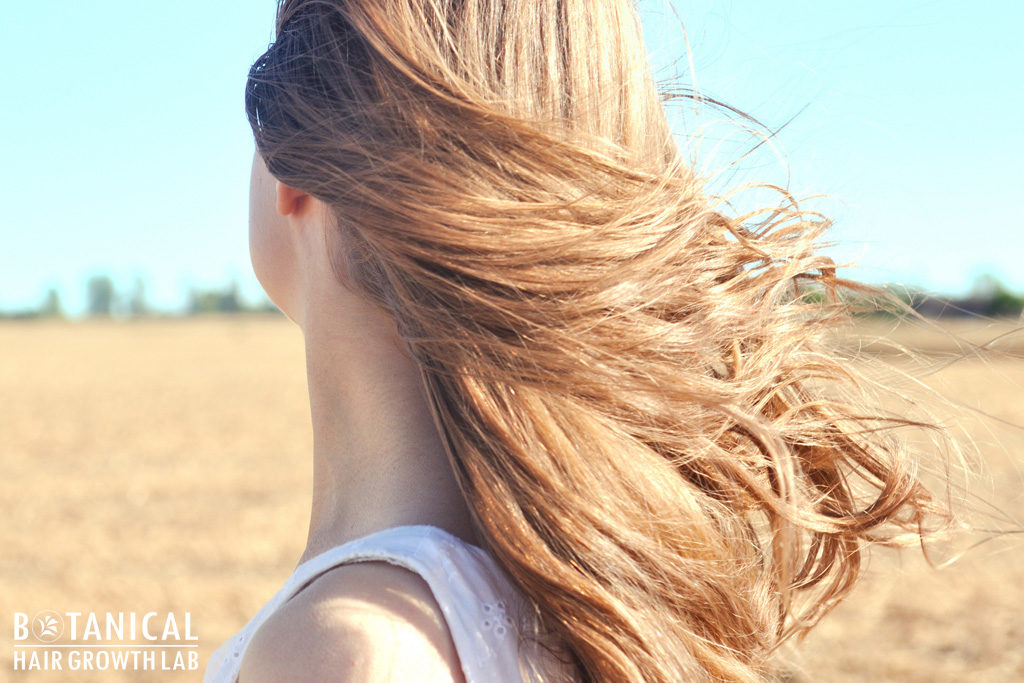 Understanding what is causing your hair loss can help to keep it from getting worse. Applying what you know in a quick 1,2,3 action plan will make your hair start to grow back so you can get back to living life.
How Your Hair Grows
Your hair (at least the first several millimeters) is alive. It needs nourishment and care, just like you do.
Your hair (at least the first several millimeters) is alive. It needs nourishment and care, just like you do.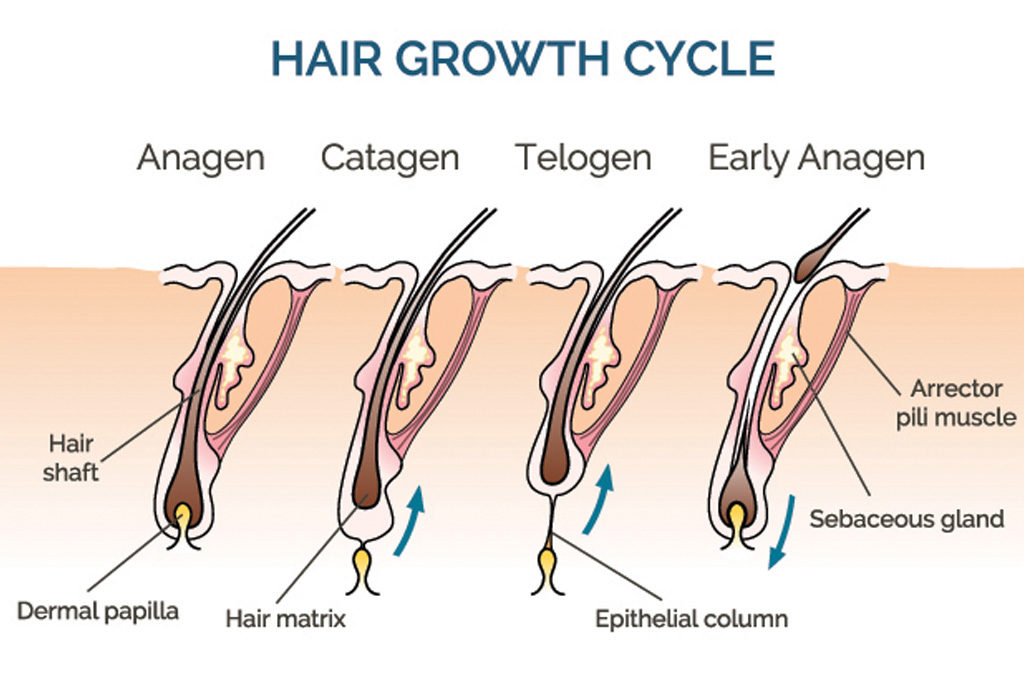 Your hair sprouts from tiny holes in the skin on your head called follicles. We are each born with about 5 million hair follicles spread all over our bodies, but obviously more densely on our heads.
When these hair follicles are healthy, we can grow around 100,000 shiny, healthy hairs on our heads, though there is a natural cycle wherein some follicles will grow new hair while others are at rest.
The root of your hair begins at the base of the follicle. You can look at the follicle as an extension of your skin. Blood vessels in your scalp feed the hair roots, not unlike the way giving good organic compost to plants will help them grow faster and healthier. It may seem silly, but your head of hair grows just like a patch of spinach, marigolds, or onions in a master garden.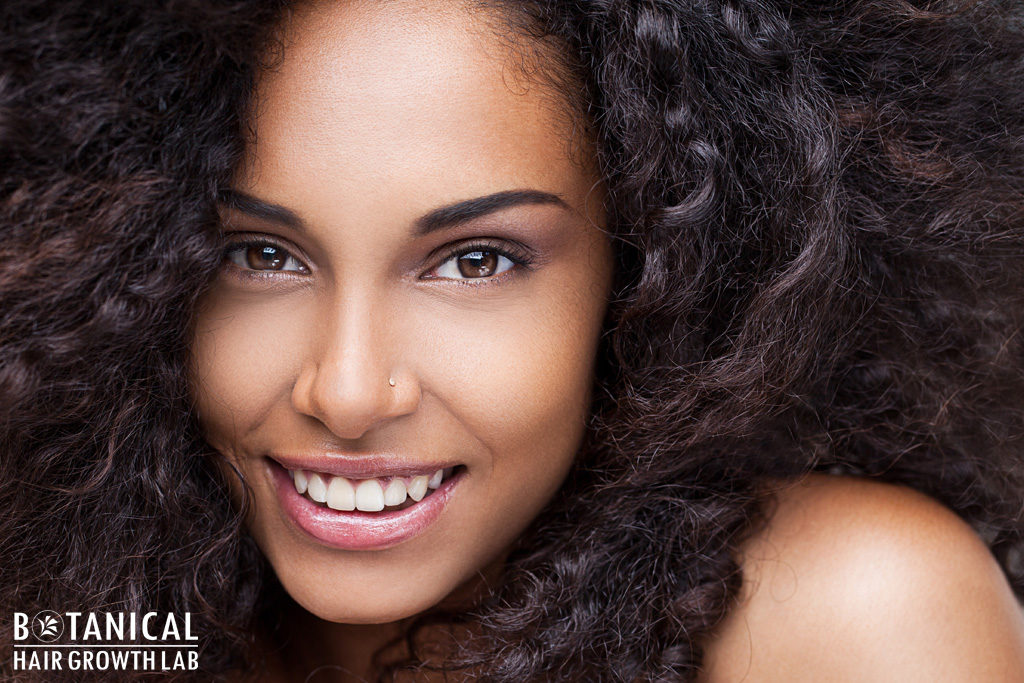 The root of the hair follicle is made primarily of two proteins:
Without an ample supply of these two proteins, your hair will start to become dry and brittle. Then there are vitamins and nutrients that support these proteins. For example, B2 vitamins helps create the energy required to bind collagen and keratin to form a single hair. Blood from the vessels in your scalp will feed your hair's roots to make them grow into a longer strand of hair.
Just like those plants, the hair begins to push through the skin in your scalp, bursting out of springtime soil. Oil glands in the hair keep it shiny, and allow it to grow longer without breaking. If the oil builds-up, it can clog your hair follicles, preventing further hair growth.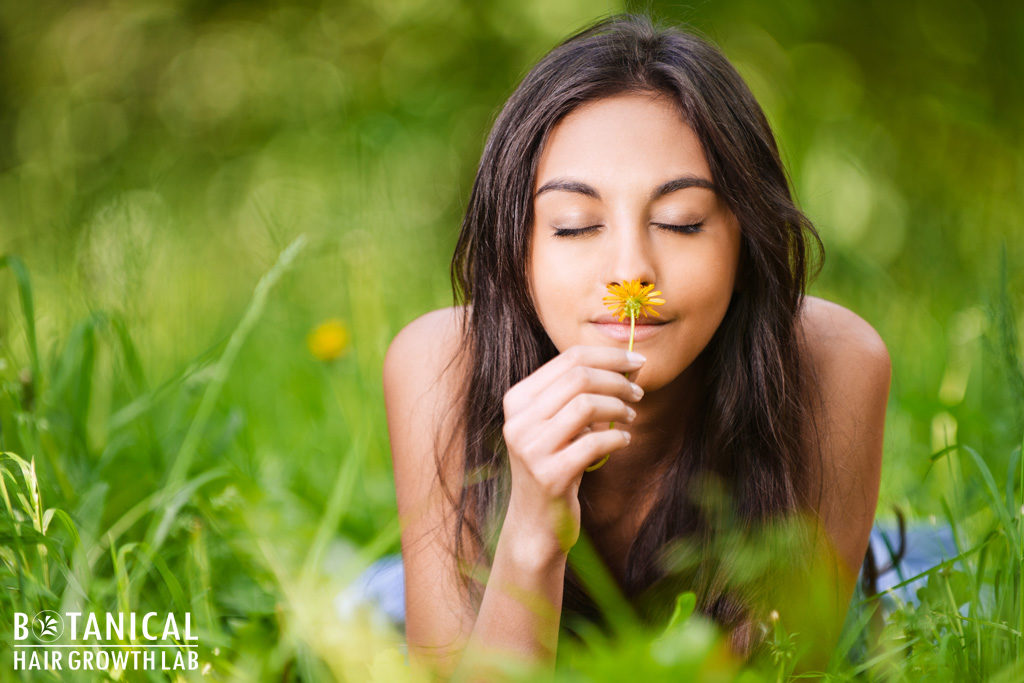 In summary, there are three things causing your hair loss , from the most fundamental level:
Poor circulation to the hair follicles depleting your hair from the nutrients it needs to grow.
Lack of essential nutrients.
Damaged or clogged hair follicles caused by hormones (during pregnancy or menopause), hair weaves, chemotherapy, and even commonly used medications.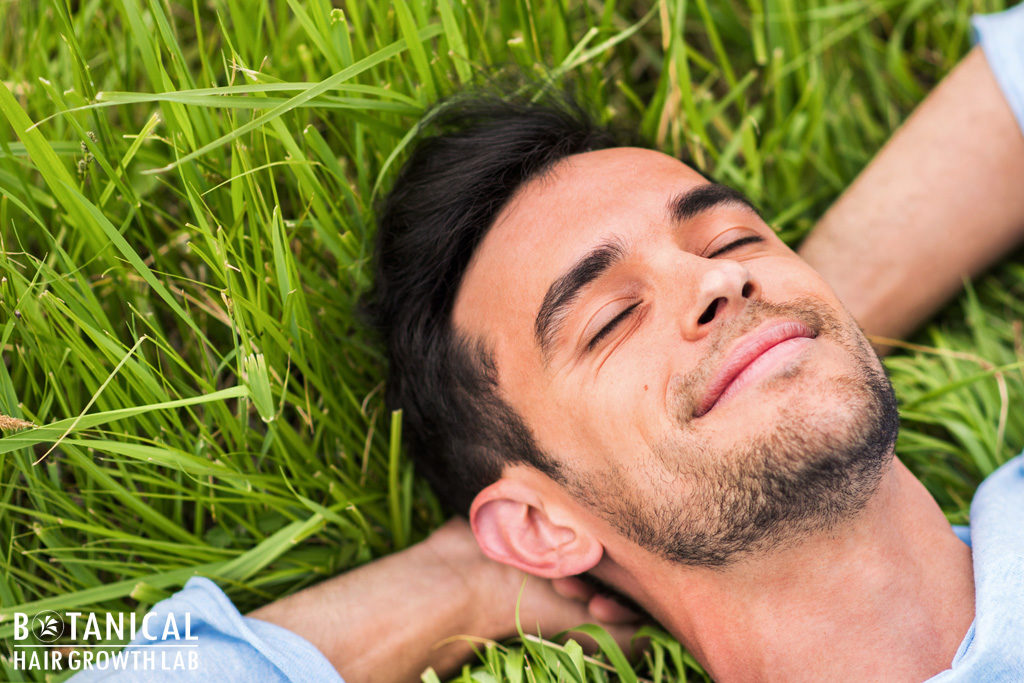 Stress and Your Hair Loss
The medical term for hair loss caused by stress is Telogen Effluvium. Telogen hairs are shaped a specific way, with the ends looking like a bulb. Effluvium means to flow out.
Stress isn't good for you, and it isn't good for your hair.
Telogen Effluvium happens there is a disruption in the natural growth and rest cycle of your hair. Usually, around 80 to 90 percent of your hair follicles on your scalp are actively growing, while the other 10 to 20 percent are in a resting phase. When this natural growth cycle is disrupted by traumatic events, you can lose your hair.
Many events can trigger Telogen Effluvium, including career challenges, family demands, pregnancy, divorce, financial pressures, romantic upset, and even a cancer diagnosis.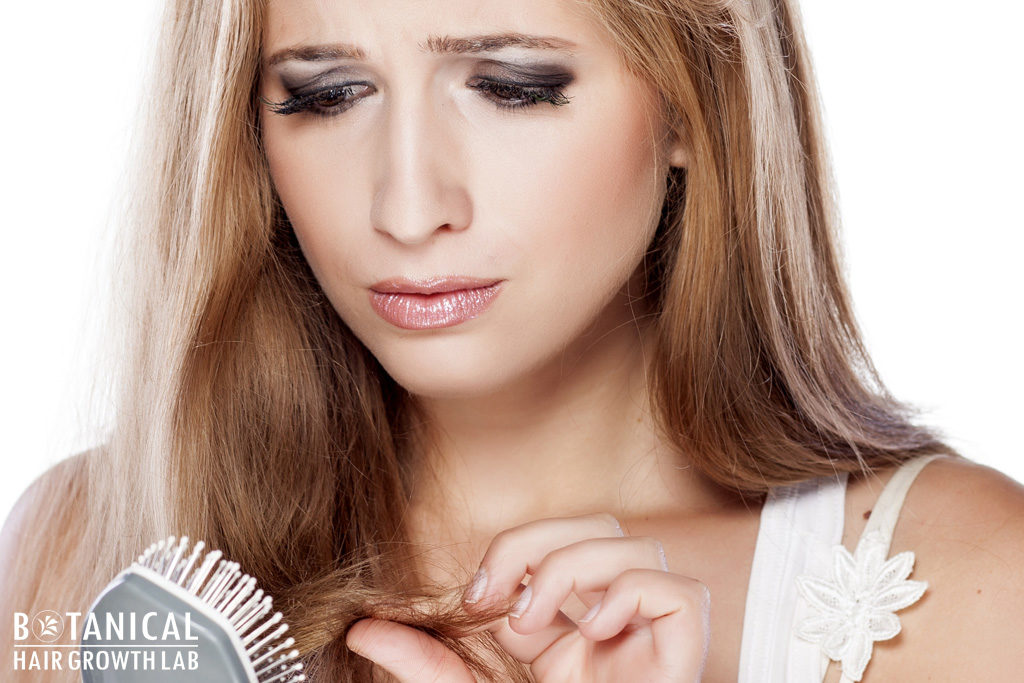 Stress causes your adrenals to go into over drive, releasing excess amounts of the stress hormone, cortisol. Cortisol is linked to increased inflammation throughout the whole body – including your hair follicles.
Vitamin B5 and Vitamin B9 help to lower cortisol levels, reducing stress on your frayed follicles and encouraging healthy growth.
None of us are at a loss for stress-triggering events in our lives, but you don't need to lose your hair over it.
These and other antioxidants can also reduce cellular damage caused by oxidative stress.
DHT is another by-product of stress. This enzyme (a substance produced by the body to help bring about a biochemical reaction) called 5α-reductase synthesizes comes from testosterone.
It is created in areas like the prostate and our hair follicles, and is always more abundant when we are stressed. DHT causes hair loss by shrinking the hair follicle. Several of our hair products address DHT directly with natural DHT blockers.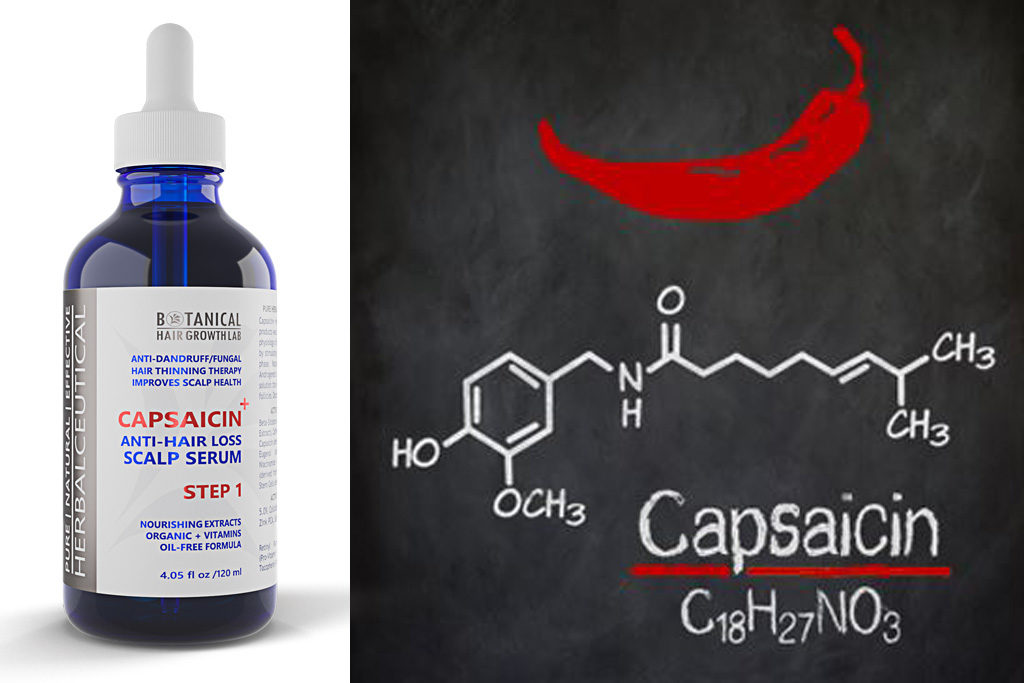 You can also lower the "stress" of the hair follicle itself and repair oxidative damage by nourishing your scalp tissue. Botanical Hair Growth Lab designed a specific anti hair loss line of products meant to repair hair follicles so that your body can do what it does naturally – grow healthy, beautiful hair.
We developed shampoo and conditioner that can address your specific hair type, as well, dry, oily, or normal. They are full of amazing organic ingredients like ginger, cayenne pepper, saw palmetto, moringa and cloves . Or try our products containing lavender, lemongrass and rosemary . These natural ingredients support your hair follicles in numerous ways:
Lavender
Lavender calms inflammation and helps increase circulation to support healthy hair growth. In many scientific studies, lavender helped to increase hair growth. One study in particular notes "changes in hair follicle number, dermal thickness, and hair follicle depth were observed in skin tissues."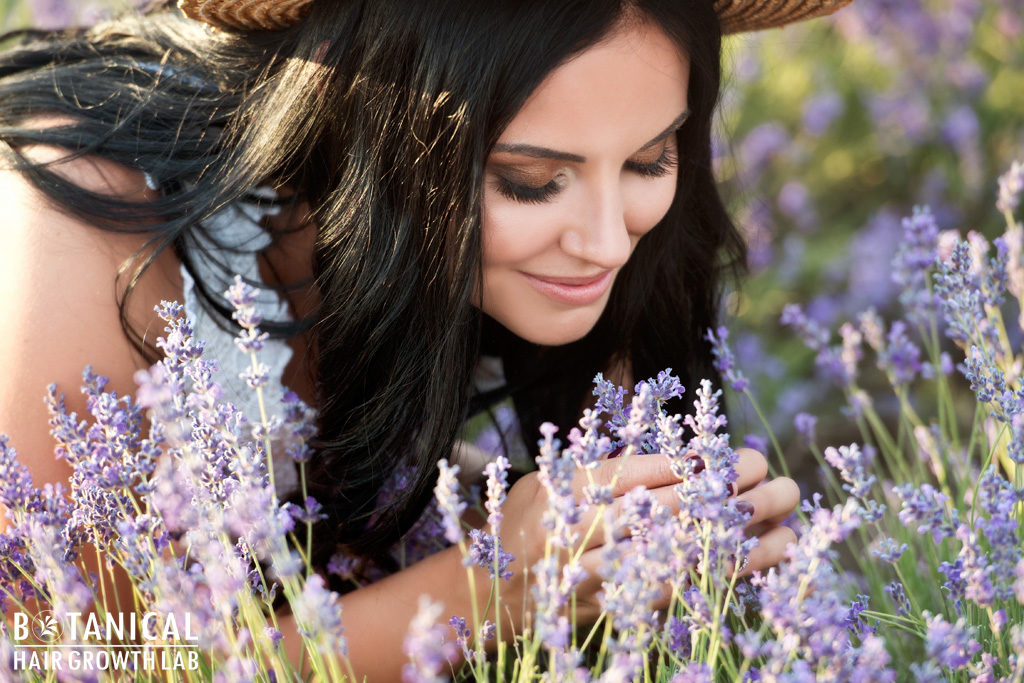 Lavender's bio-active compound, Caffeic Acid, helps to improve micro blood-vessels circulation which leads to increasing number of healthy hair follicle growth.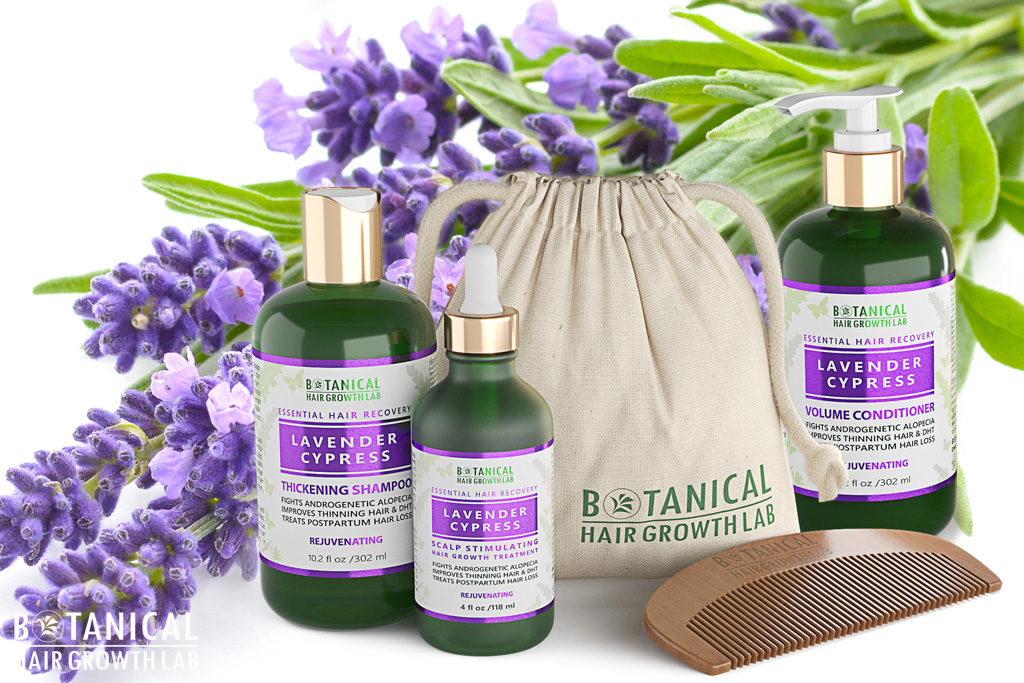 Cypress
Essential oils derived from the Cypress tree and the conifer family called Chamaecyparis obtuse promotes hair growth. Scientists are not exactly sure how the plants' oils work, but consistent observation of their efficacy for re-growing hair have been observed.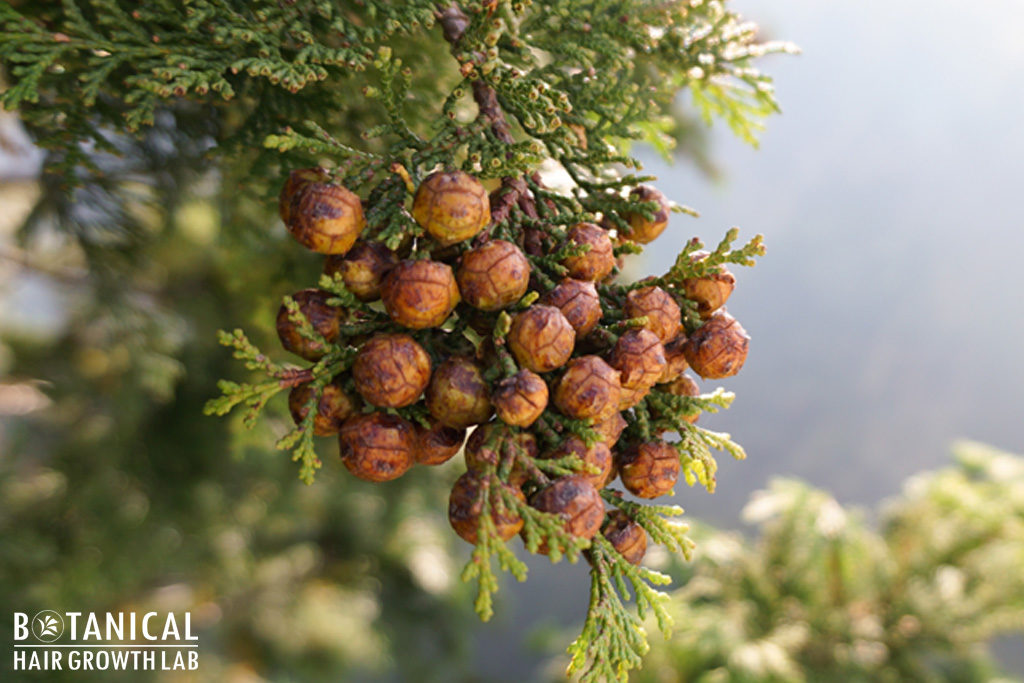 Compounds of Cypress, A-Pinene and Camphene, due to its cytotoxic properties, stimulate the activity of the vascular endothelial growth factor gene, resulting in successful hair follicle cell division.
Clove
Clove essential oils contain some of the most potent antioxidants around. Cloves are consistently listed high on ORAC charts for this reason. 3.5 ounces of cloves contains a whopping 350,000 units of free-radical absorbency as compared to 100,000 for the latest "super food" – Acai berries.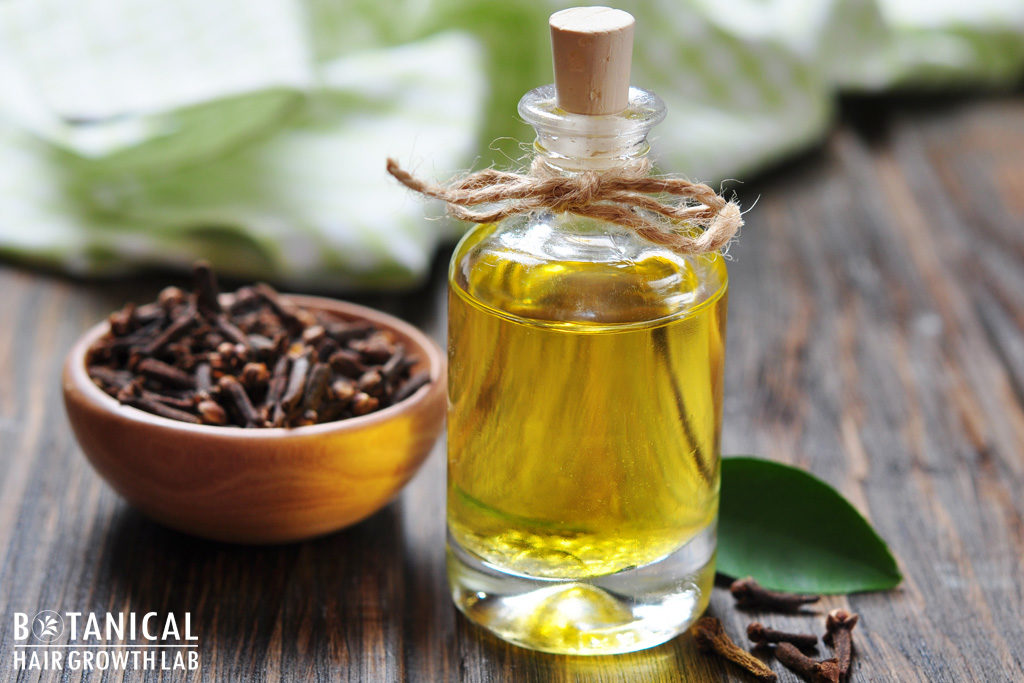 Being an androgen receptor (AR) antagonist, the active compound of Clove, which is Eugenol, helps to return dormant hair follicles back to their growth phase.
(An ORAC value tells us the level of free-radical scavenging that any plant or herb can accomplish in our body. ORAC is an abbreviation for Oxygen Radical Absorbance Capacity and was developed by the National Institutes of Health in Baltimore). Not only do cloves inhibit cellular damage, but they also help support blood circulation and deliver antioxidants to your scalp.
Moringa
Moringa oleifera is native to the Himalayas, and like so many plants that grow there, contains a heap of nutritive qualities. As Bruno Bernard states in a study titled, Advances in Studying Hair Growth: "The interdependence and complementary roles of these influences allow us to propose that the hair follicle is a true paradigm of a "Yin Yang" type, that is a cold/slow-hot/fast duality. Moreover, a new promising field is emerging, suggesting that glycans are key elements of hair follicle growth control."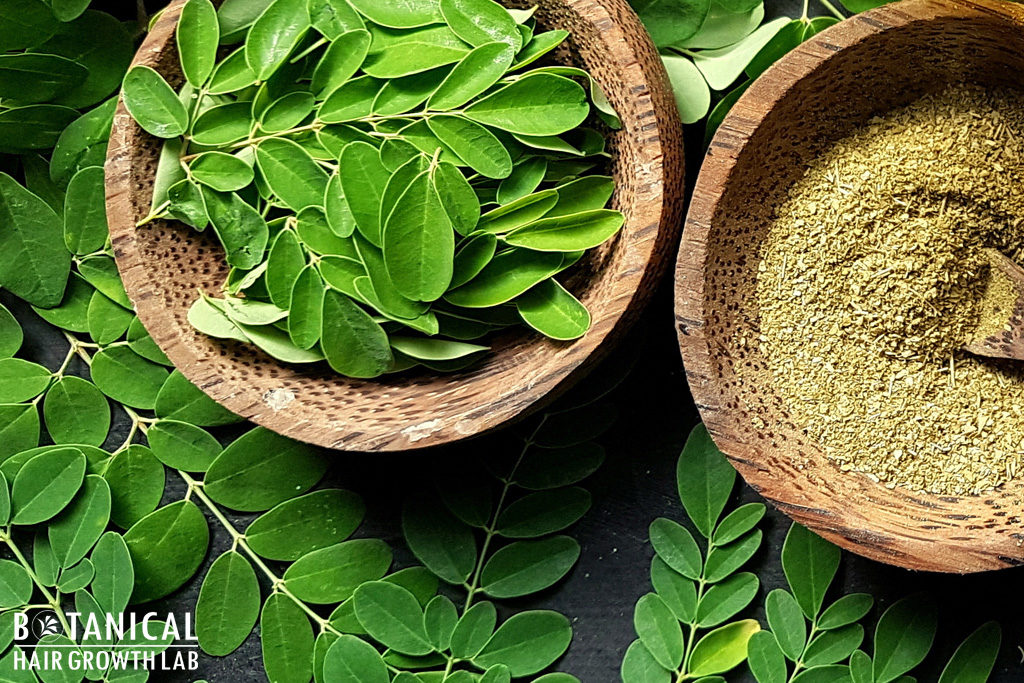 Glycans are in abundance in moringa. These saccharides are an "underappreciated building block in all of life."
Additionally, the numerous bioactive components, including vitamins, phenolic acids, flavonoids, isothiocyanates, tannins and saponins help to reduce inflammation, support hair follicle growth, and even help regulate blood sugar and hormonal levels. With lower cortisol levels due to hormonal regulation, hair follicles don't shrink.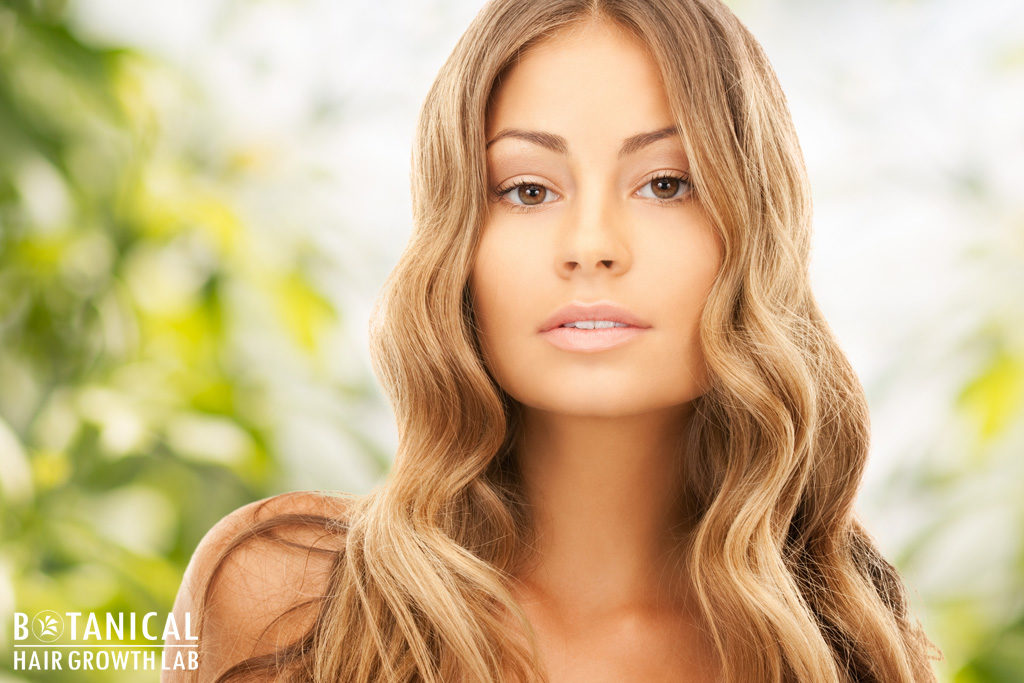 On the other hand, if cortisol levels are too high, hair loss can also result. The body tends to prioritize its production of cortisol over other hormones. Ironically, both high and low levels cause hair loss. Moringa helps to regulate all our hormones so that this doesn't occur.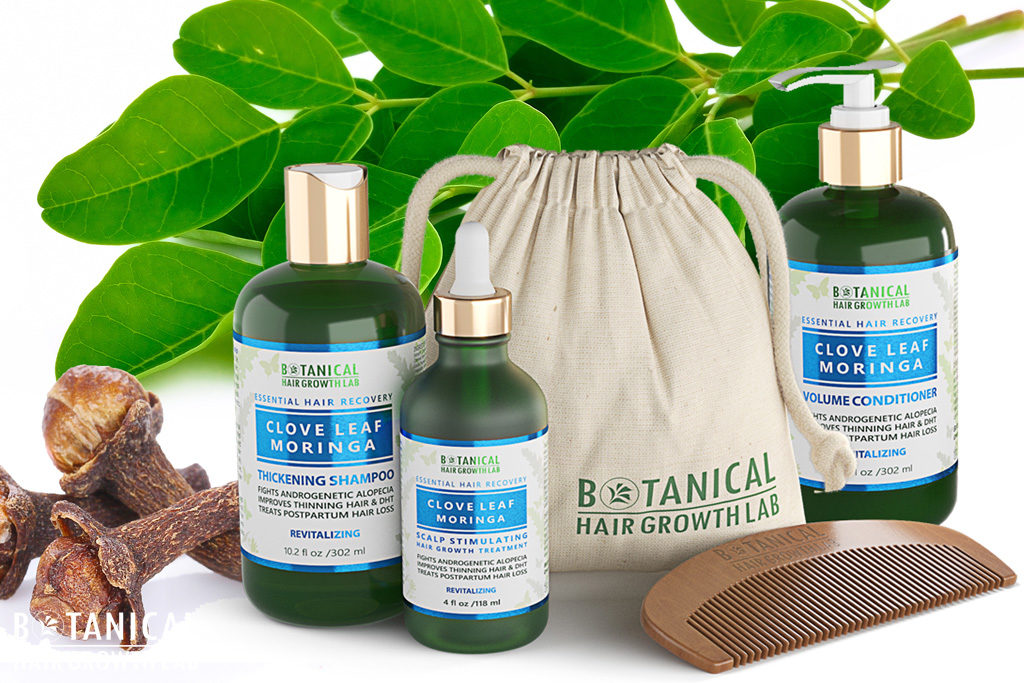 Our Clove Leaf & Moringa Shampoo contains an incredible amount of antioxidants to help nourish your hair follicles, and return dormant hair follicles back to production. Rich in omega- 9 Oleic Acid, Moringa Oil is highly effective in conditioning and soothing hair and scalp by balancing natural oil production to maintain a healthy environment for hair growth.
Cayenne
That's right the peppers you enjoy eating can also help to promote hair growth. Science supports the use of cayenne for hair loss prevention as well as increasing circulation to your scalp. It contains one of the only naturally-derived cannabinoid blockers known as CB1.
Our bodies make their own cannabinoids too, or you may have heard of the term since it is promoted as a health-boosting aspect of the cannabis plant.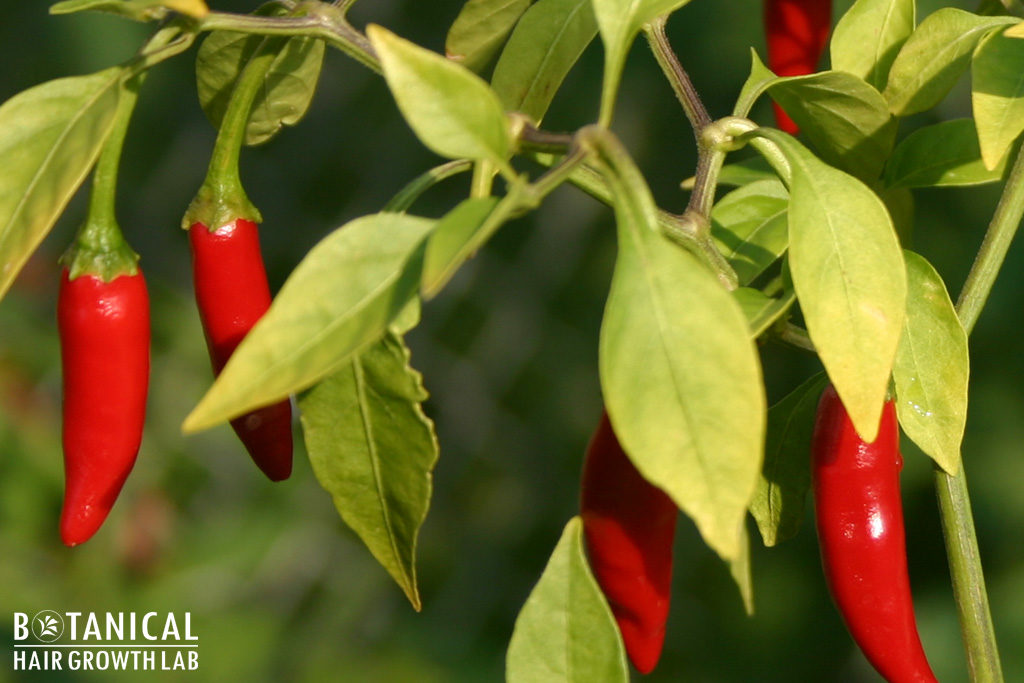 However, our endocannabinoid system is very delicate. The receptors in this system are responsible for reading cellular messages that then direct our bodies how to regulate sleep, digestion, and even lower pain. When this group of receptors in our scalp receive cannabinoids they can stop hair growth.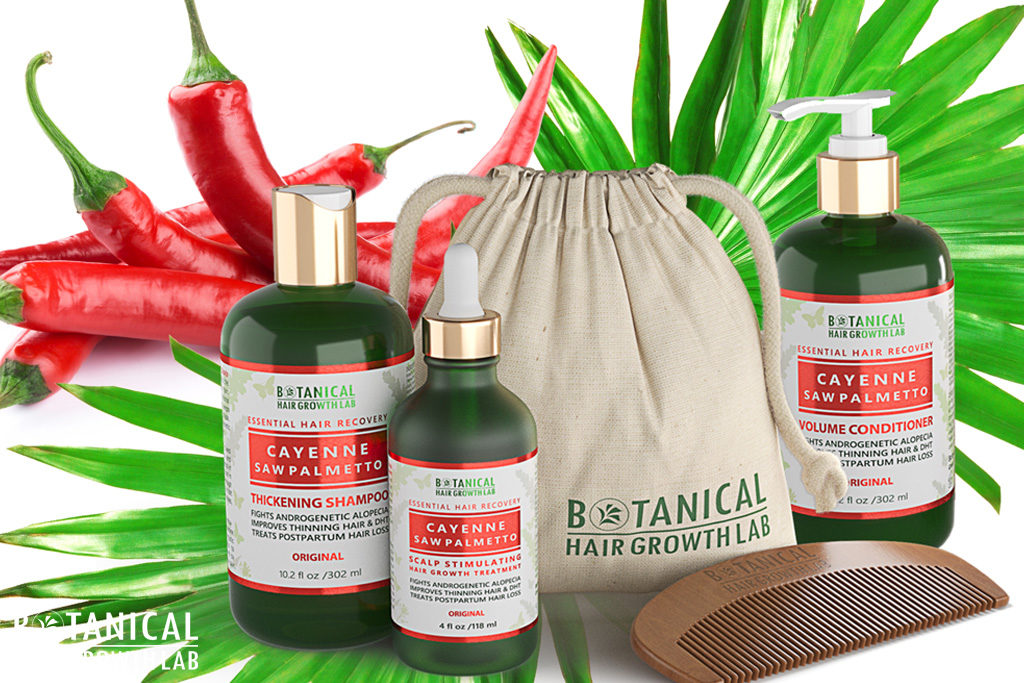 This is especially true when the body is under high levels of stress. It seems cortisol production and cannabinoids are connected. Cayenne would be indicated not only for androgenetic hair loss treatment in general, but particularly useful during periods of stress, due to the heightened activation of these receptors.
Our cayenne-infused formula which also contains Saw Palmetto is a staple of many of our customers that lose hair due to stress. It contains 16 DHT blockers, a testosterone derivative that causes hair loss.
Lemongrass
Lemongrass oil is one of the most versatile and medicinal of all plant extracts. It is antimicrobial, antiseptic, carminative, astringent, antipyretic, fungicidal, bactericidal, and even used as an antidepressant. This plant essence is also full of iron. Deficiencies in iron are known to cause hair loss. Lemongrass is known as a natural analgesic which can reduce inflammation as well.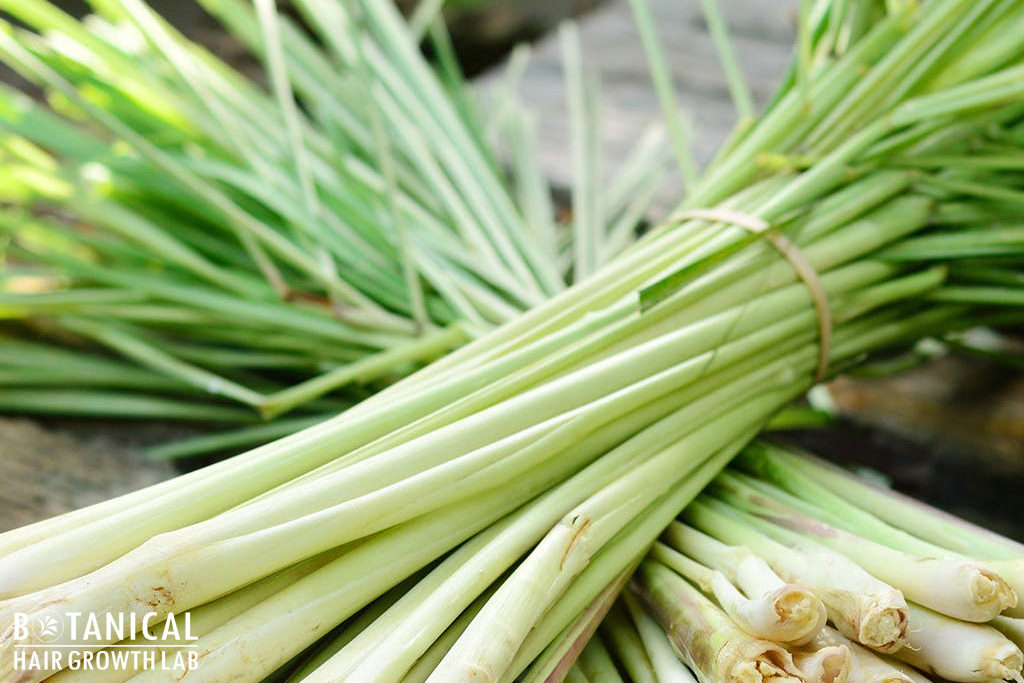 Lemongrass compounds such as Citral, Neral and Geranial also stimulate hair follicle cell division and dilate blood vessels for improved hair regrowth.
Rosemary
Scientific research for the efficacy of Rosemary plant extracts is still new, but rosemary has been used for centuries as a medicinal plant. It has long been used to cure dandruff, get rid of lice and prevent premature greying of the hair.
Rosemary contains flavonoids including luteolin, apigenin, diosmetin, tannins and saponins. You'll also find high levels of iron, calcium, and Vitamin B6 – also nutritional elements that support healthy hair.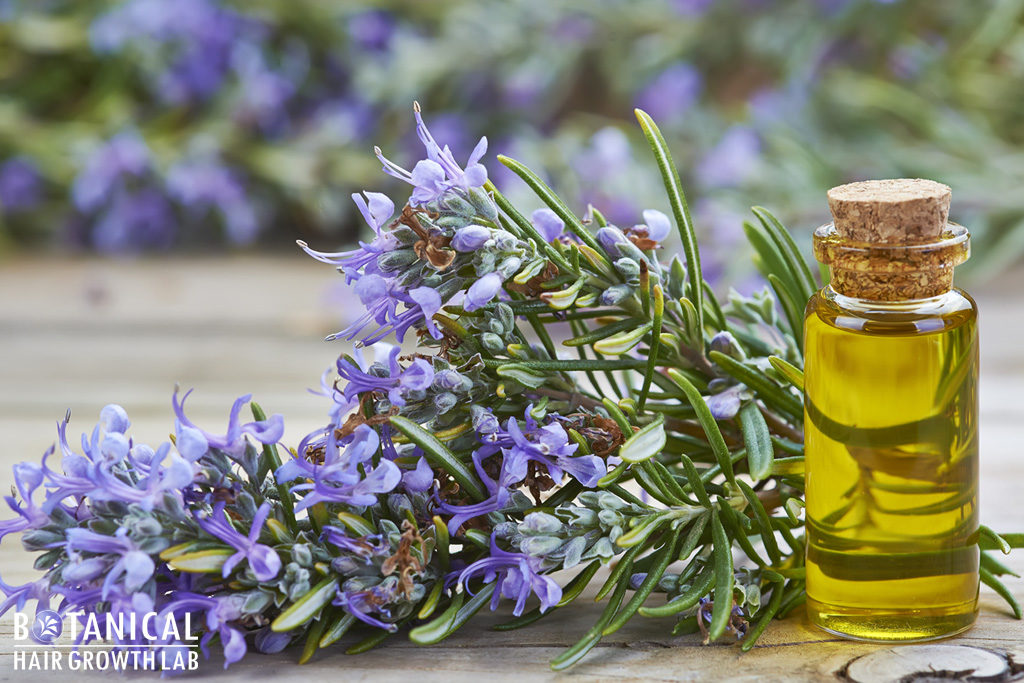 Rosemary oil also prevents DHT from binding to hormone receptors that enable it to attack hair follicles.
It also contains Ursolic acid which promotes circulation to your oxygen-thirsty hair follicles. Our shampoo formula contains well-researched botanical ingredients including rosemary, argan oil and saw palmetto to stop postpartum hair loss and androgenic alopecia.
Our Scalp Soothing Lemongrass-Rosemary "Refreshing" formula contains bio-active compounds derived from Saw Palmetto, Rosemary and Lemongrass. You scalp has never felt anything like it.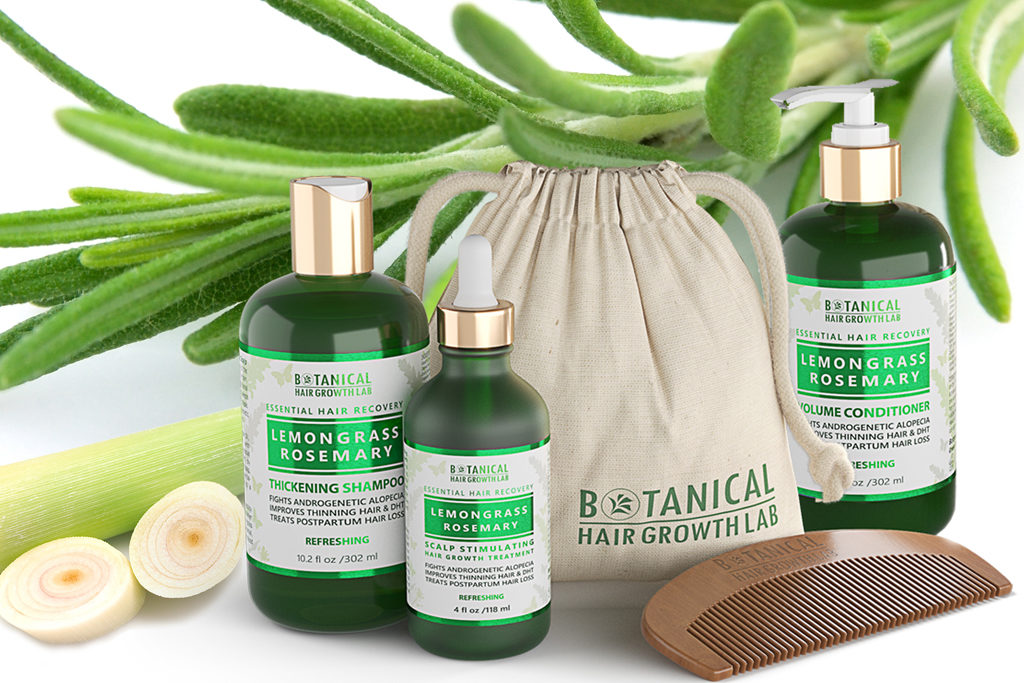 Saw Palmetto
An extract of Saw Palmetto berries blocks 5-alpha-reductase, an enzyme that converts testosterone to DHT. DHT causes the hair follicles to shrink and become damaged, and can also interrupt that natural hair growth cycles of your body.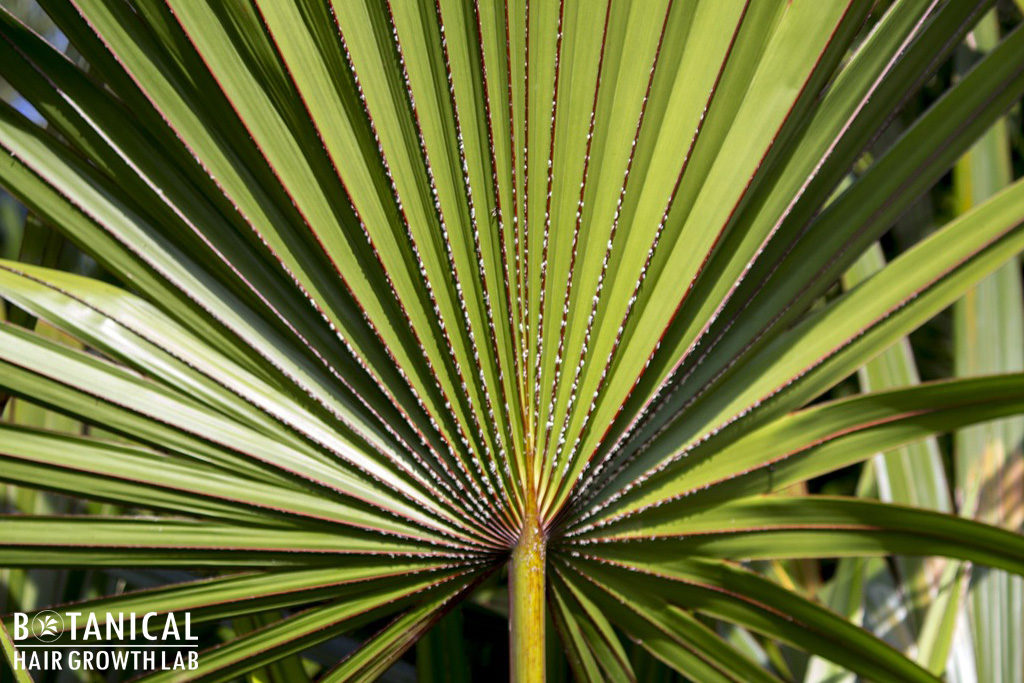 Evidence to support the use of Saw Palmetto can be found in a study of 34 men and 28 women (18-48 years) that topically applied Saw Palmetto extract in lotion and shampoo for three months. This resulted in a 35% increase in hair density and 67% increase in sebum reduction.
Ginger
Ginger is a staple for growing hair and supporting stressed hair follicles. The oily resins from ginger rhizomes contain many bioactive components, such as [6]-gingerol (1-[4′-hydroxy-3′- methoxyphenyl]-5-hydroxy-3-decanone) which are the primary pungent ingredients that exert a variety of remarkable pharmacological and physiological activities.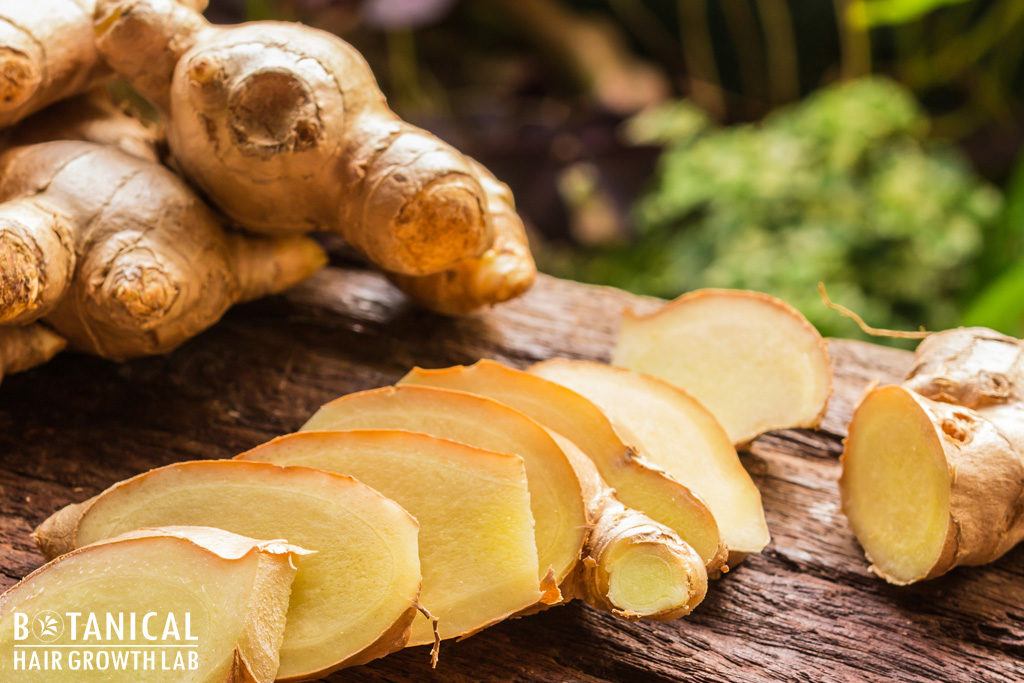 Ginger's active compounds, including Zingiberene, help to promote blood vessel dilation in the scalp and bring oxygen-rich blood to hair follicles and roots. This helps your hair stay in its growth phase.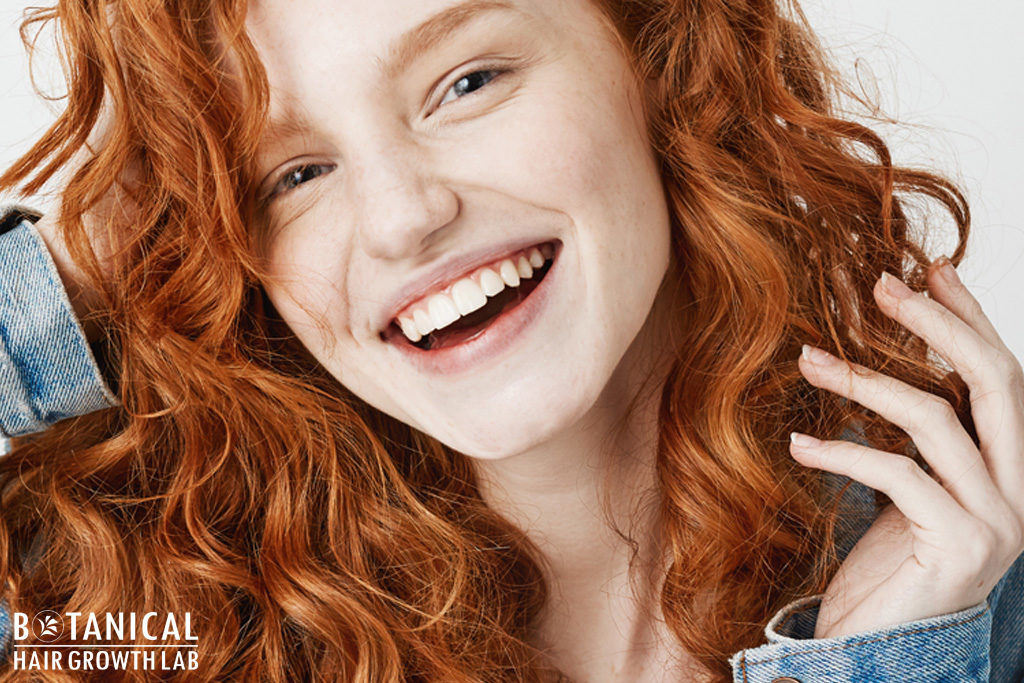 Ginger also has excellent anti-fungal properties which can help prevent sebum build-up and hair follicle damage due to skin conditions like dandruff.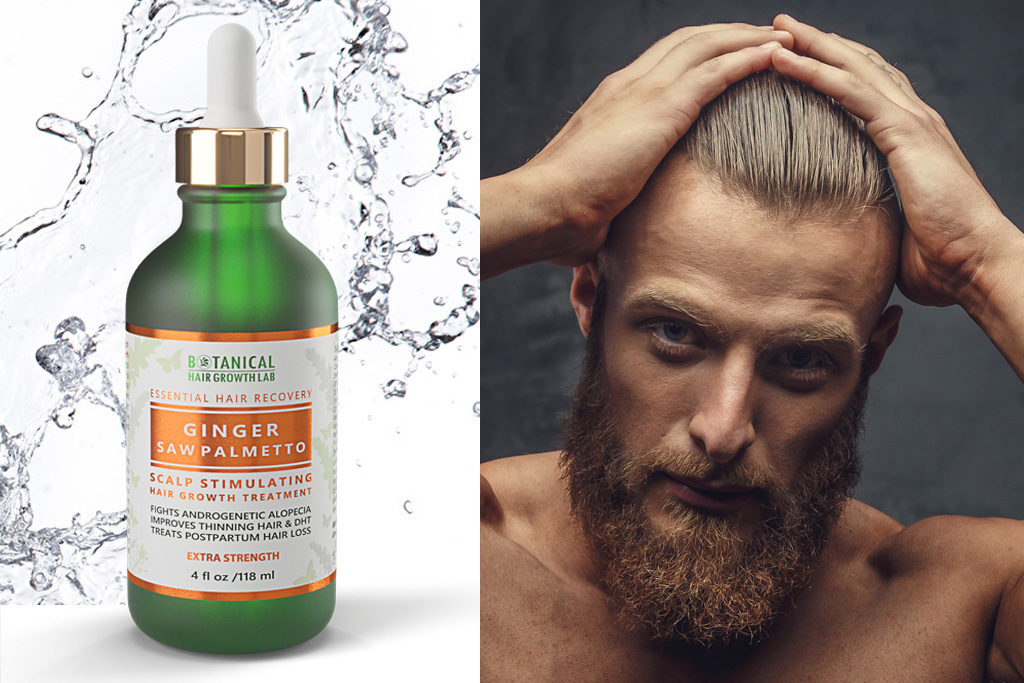 Turmeric
The benefits of turmeric have been widely publicized. There's a reason why India has the lowest incidence of neurological disease in the entire world. They consume the highest levels of Turmeric – a root spice that is used in curries, soups, and other traditional dishes.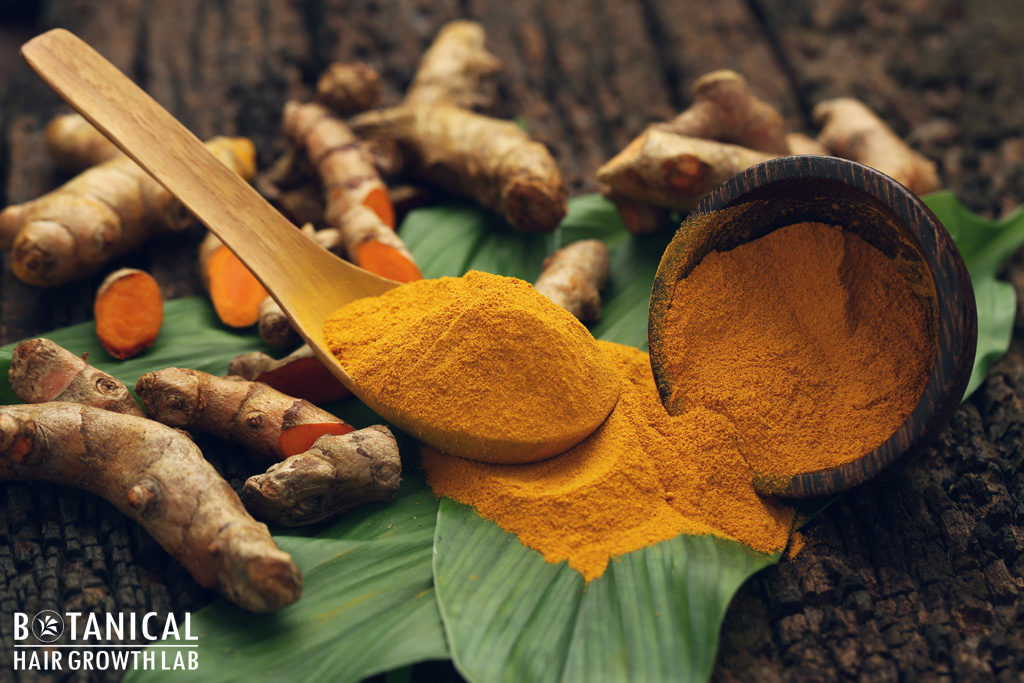 This single spice might be one of the most important things you can use on your hair. A database known as MEDLINE has published over 580 potential health benefits of turmeric, and its primary polyphenol known as curcumin.
Here's a brief summary of the many hundreds of medicinal properties contained in this root: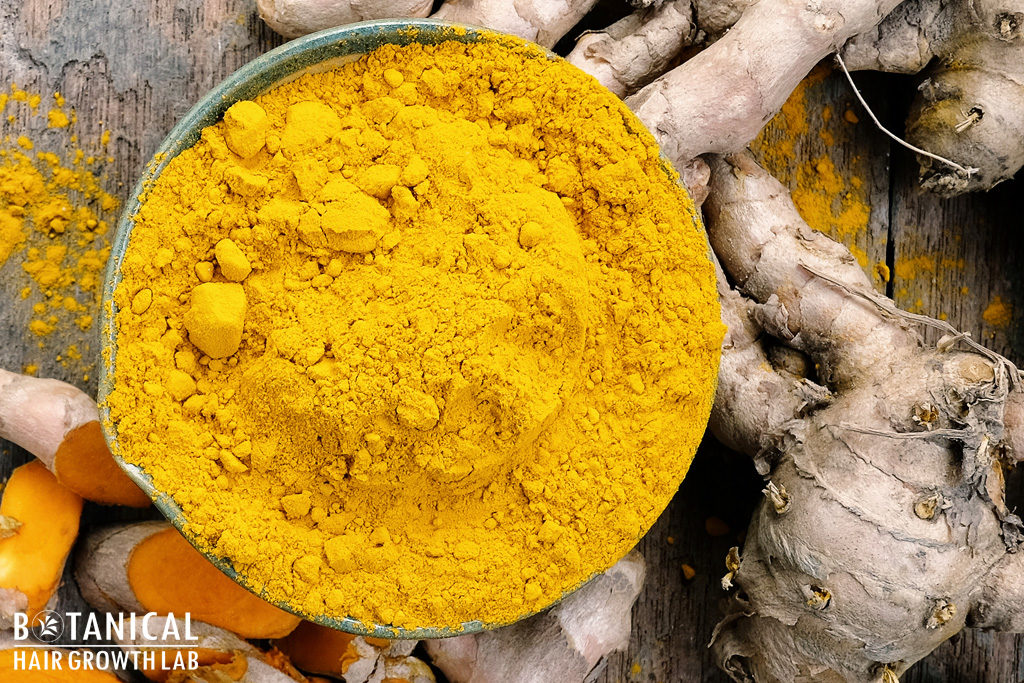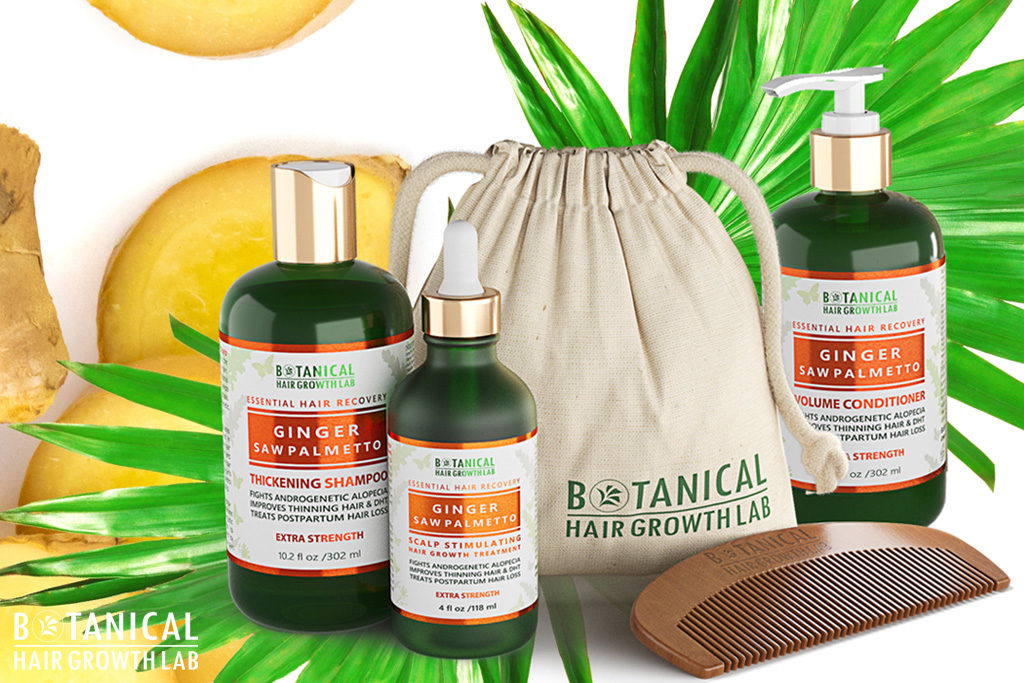 Our Ginger and Saw Palmetto formula with Turmeric helps to combat hair loss by supporting your scalp and giving high levels of antioxidants to growing hair.
Pregnancy and Postpartum Hair Loss
You might be feeling excited about the little person coming into your world soon. Your hair might even look amazing while you are pregnant, due to that extra burst of hormones, but many women experience hair loss once the baby arrives.
It can be horrifying to watch clumps of hair fall out. It happens to about 50 percent of women – a necessary by-product of all the massive changes your body just went through to bring life into the world. That's no small task.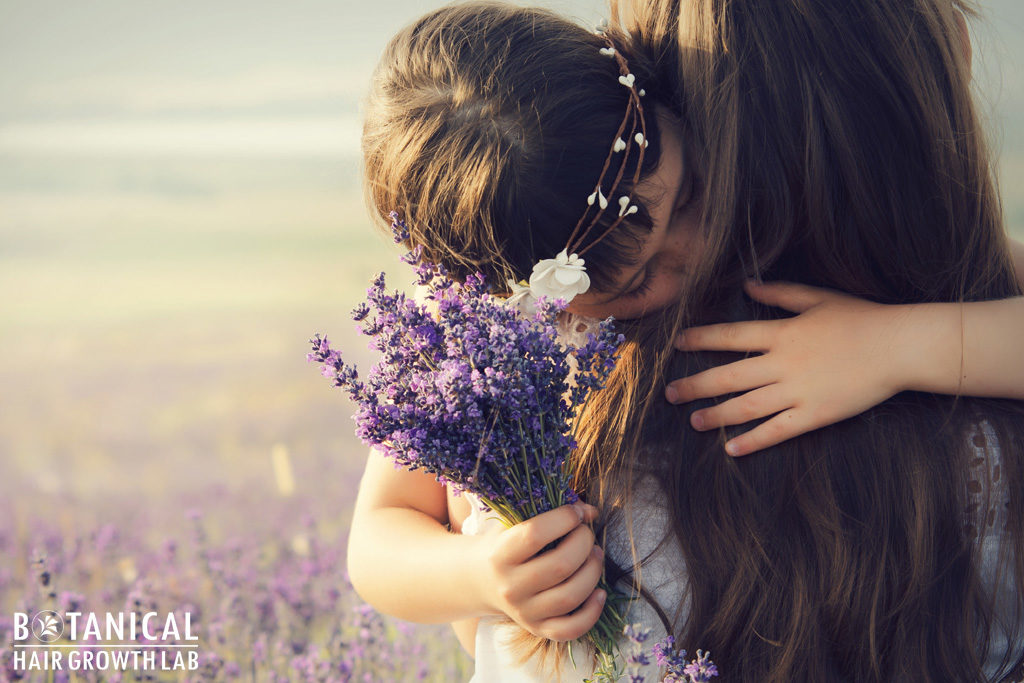 During pregnancy, high levels of estrogen "freeze" your hair into the non-growth part of its cycle. Once you give birth, your estrogen levels start to return to normal and all that hair that was resting starts to fall out.
If you are one of the millions of women who lose their hair post partum, go ahead and cry it out. Go through the stages of grief that accompany that loss, but don't dwell on it for too long. There are things you can do to help stop hair loss.
Also understand that it's a hormonal change that will likely fix itself within about six months, though for some women it can last up to a year. But who can wait half a year or more to stop shedding like a Sherpa?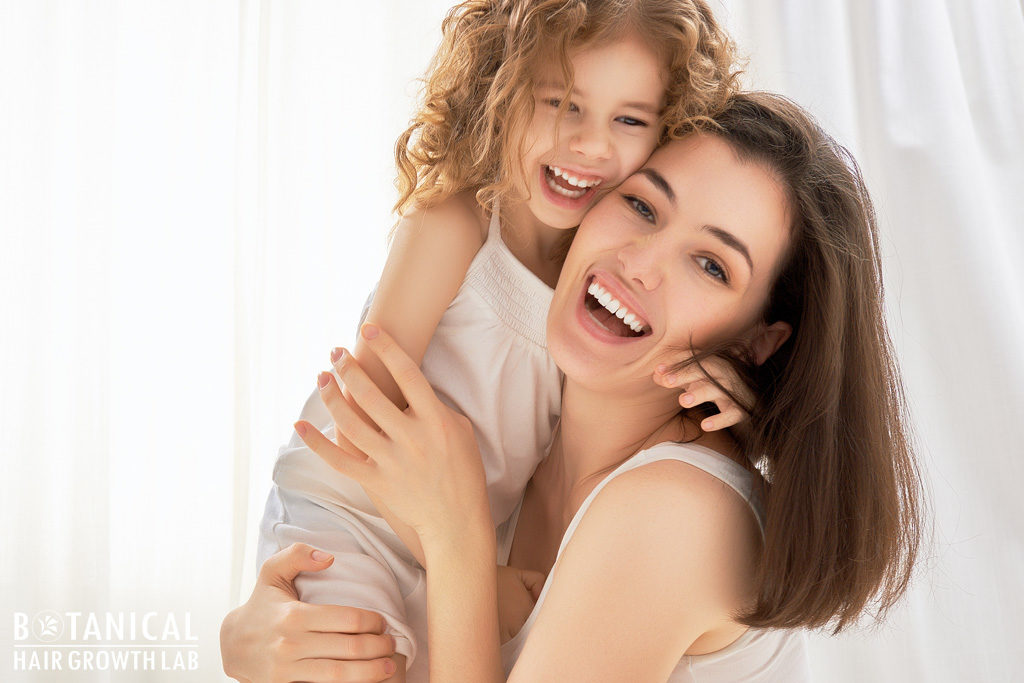 You can try coloring, cutting or styling your hair differently, or you can turn to scientifically tested products that help keep your hair from experiencing the blues. After all, you've got midnight feedings, countless diapers to change, and a complete restructuring of your schedule, so growing hair should be the least of your concerns.
There are many essential oils that can help promote hair growth, like lavender, peppermint, rosemary, and ginger, so we use only safe, effective ingredients in our shampoos and conditioners that help to increase circulation to the scalp, stop postpartum hair loss from damaging your hair follicles, and provide ample nutrients to newly budding hair.
Aging and Your Hair
We'd all love to stay young forever, but time charges on. That bugger – time – has a profound effect on our hair. Here are a few things you can expect as you and your hair grow older:
Cells in our hair age. The cells that create our hair's protective outer cuticle become more fragile. A dip in keratin protein levels also makes hair weaker and less elastic. When it is pulled or stressed (when we style it, curl it, blow-dry it) it will snap instead of stretching. The result is hair that is more likely going to break, meaning we have less of it. Products that help protect the hair when we are combing, brushing, heating, and styling it, can help stop the breakage.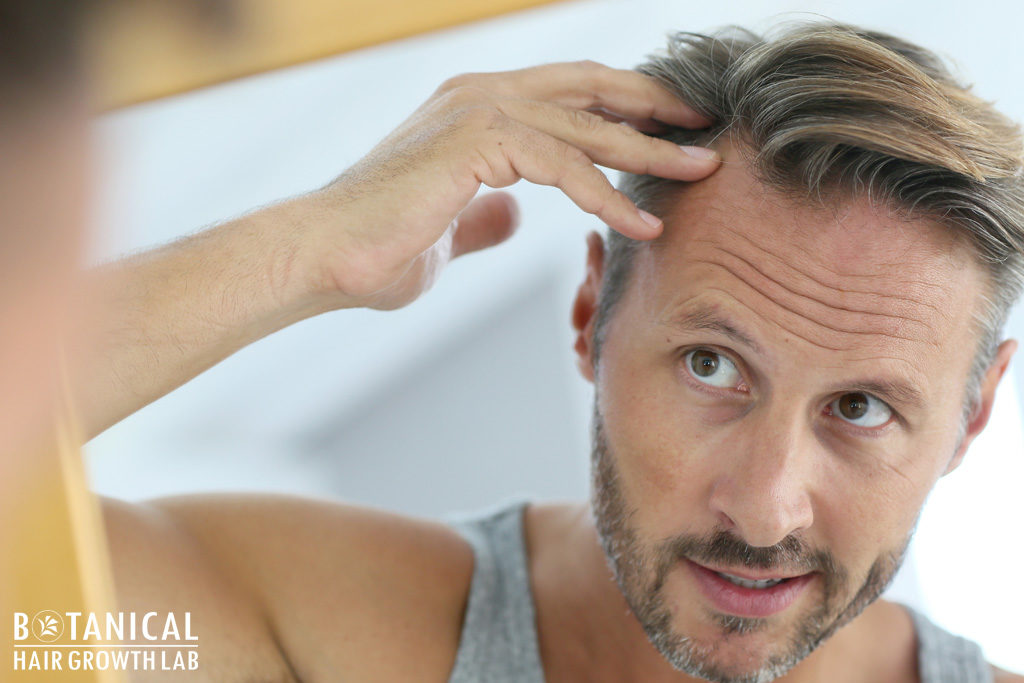 Some people lose hair and some don't. It's like a genetic lottery. You won't know if you are prone to hair loss until you get older. If you are someone who is genetically programmed for hair thinning, you can start to address it early on, instead of waiting to be a victim of fate.
Grey hairs tend to be courser and denser, but we'll have fewer of them. When we are growing our hair out after chemotherapy (and we happen to be over 40) we can expect the thickness of individual strands to be lessened. Protein-based shampoos and conditioners can help make up for lost density by coating the hair, so you'll look like you have more hair when you don't.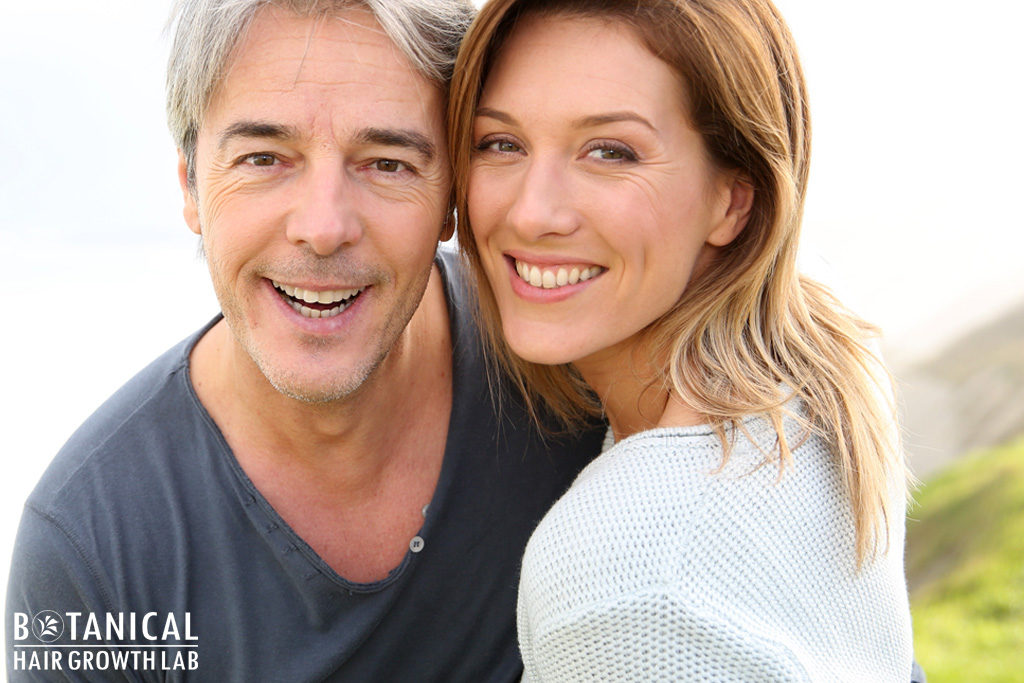 The best way to stop thinning and aging hair is to increase circulation, block DHT, and offer it plenty of natural, botanical ingredients which will keep the hair follicles feeling a little less worn out.
Heavy Metal Exposure Can Cause Hair Loss
Mercury, lead, cadmium, arsenic, chromium, and other heavy metals are highly toxic metals that can cause acute and chronic health problems and make it difficult to grow healthy hair.
Metallic elements are considered systemic toxicants that are known to induce organ damage even at the lowest levels of exposure, yet our exposure to them is startlingly high. These toxins can impede our ability to grow hair and even cause alopecia. They are stored in our kidneys, liver, spleen, brain, liver and blood making it difficult for us to grow new, healthy cells – including those needed for new hair.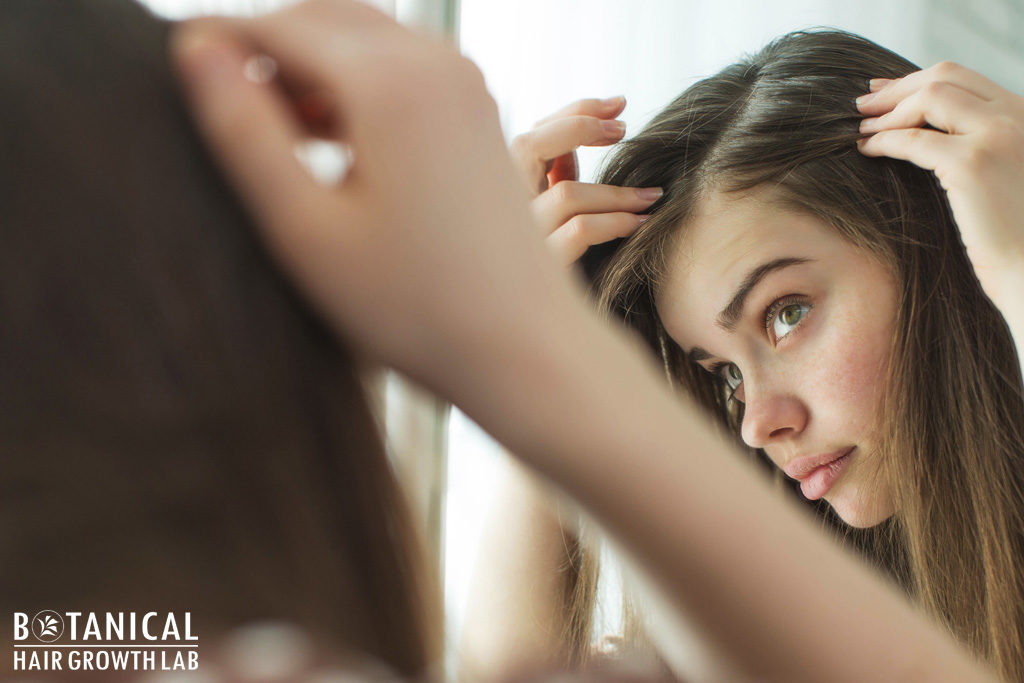 Reduce your exposure toxins and consider using our botanical formulations. It is great at helping the body rid itself of carcinogens like heavy metals.
Chemotherapy and Your Hair
Chemotherapy drugs don't just kill cancerous cells, they also kill the healthy cells in your hair follicles.
Though it doesn't happen to every cancer patient, an estimated 65% of individuals who receive chemo experience hair loss.
47% of female patients consider hair loss to be the most traumatic aspect of chemotherapy and 8% decline chemotherapy due to fears of hair loss.
Chemotherapy also causes inflammation of the scalp, and often scalp sensitivity. Some women resort to the use of cold caps or scalp cooling systems to try to avoid hair loss, but they don't always work.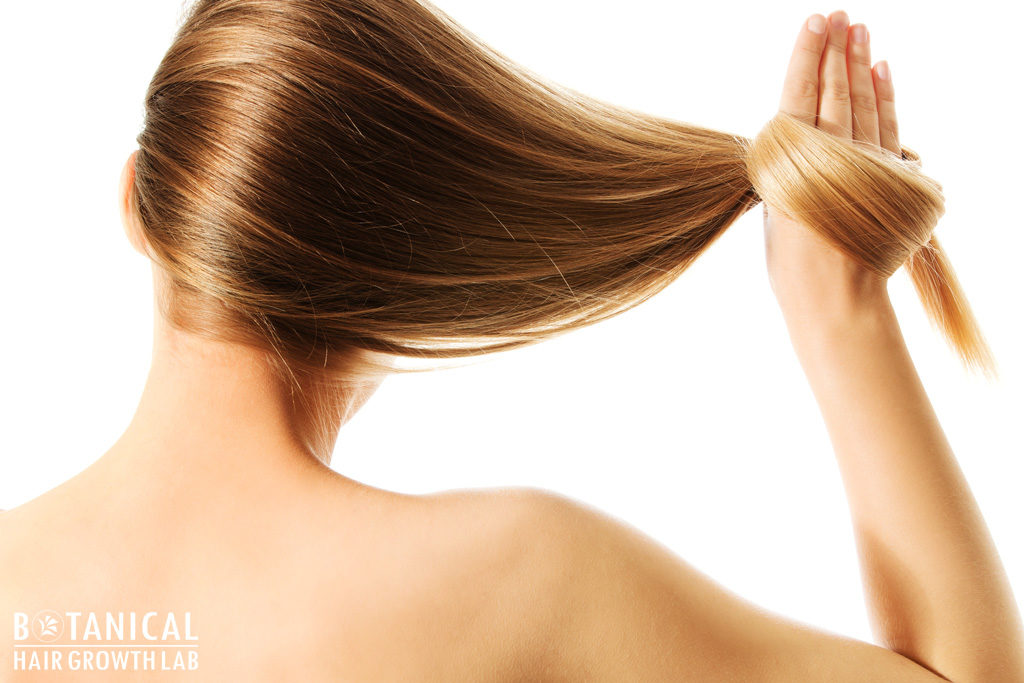 If you find you are one of the many people who suffer from hair loss after chemotherapy, know that you aren't alone. Know that regrow your hair will take time, and know that it is possible to speed up the process with our products which were developed to handle every type of hair loss challenge.
1, 2, 3 Action Plan to Stop Hair Loss and Regrow Healthy Hair
In summary, you need an action plan to regrow hair. It's as simple as this:
Eat, Rest, Exercise, and Hydrate. These lifestyle choices will nourish your hair from the inside out.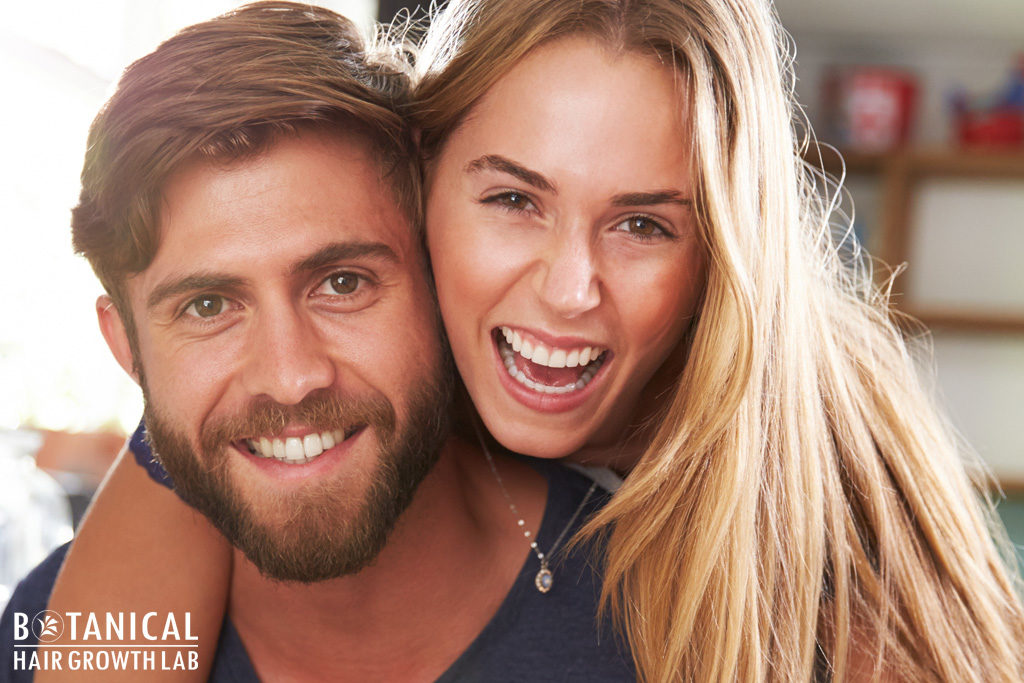 Try DHT Blocking Formulas. Use one of our many specially formulated shampoos and conditioners which contain 16 different broad-spectrum DHT blockers and botanical ingredients to grow hair as quickly and healthfully as possible.
Baby Hair New Growth. When new hair is coming in, treat it like a newborn. Don't over-style it, aggressively brush or comb it, and certainly don't irritate your scalp with harsh, chemically-laden hair products that can cause excess sebum, dandruff, and hair follicle break down.
The last part of the plan we didn't mention is to share your success with others, and glow with the new hair health you've found.
And once you've tried one of our Essential Hair Recovery shampoo or conditioners, please share your experience with us on Facebook, or Instagram. We love hearing about your success growing beautiful, strong, knock-out hair. Hair that's smart and beautiful, just like you! ORDER NOW! ➡ 10% OFF w/coupon code WLCM10