When your body goes through perimenopause or menopause, the last thing you want to concern yourself with is hair loss. It falls out in clumps, or your hair brush starts to look as if there is more hair in it than on your head. With the hot flashes, sleepless nights, mood swings, and other symptoms, hair loss can be the straw that breaks the camel's back – that one last thing that makes you, ironically, want to pull all of your hair out!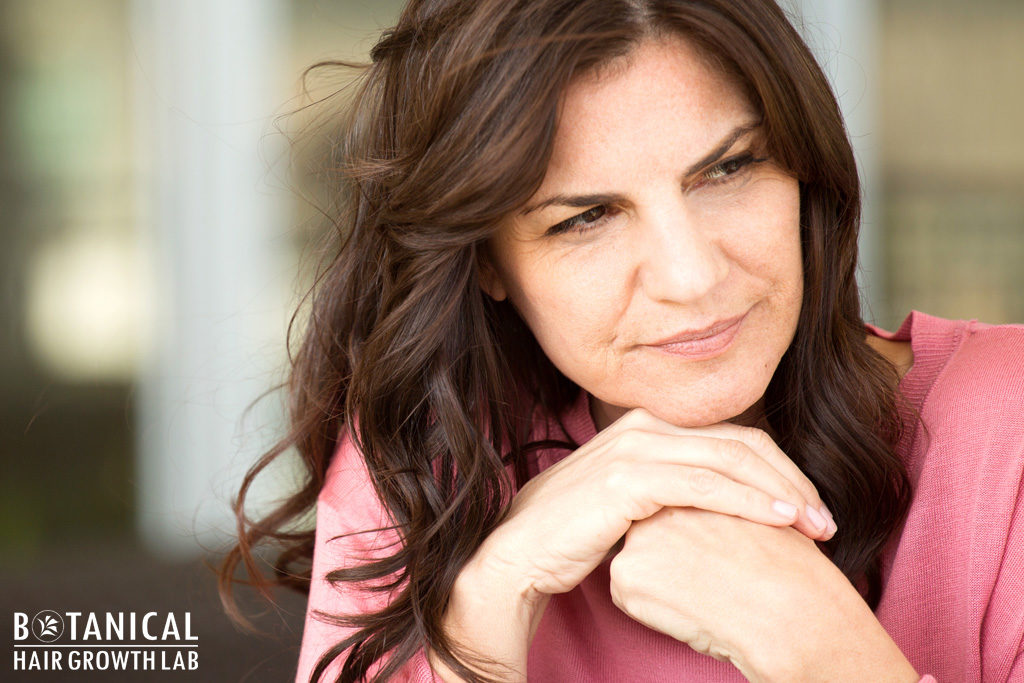 Before you go to such drastic measures, know that there are ways to ease your mind and body during this time of change in your body. We're here at Botanical Hair Growth Labs to support you with a hair care routine, the proper usage of essential oils to remedy hormonal challenges that your body is facing that can cause hair loss, and to show you how to use your diet and lifestyle choices to make living through menopause possible.
You can not only get through menopause without pulling your hair out, but you can restore hair growth, lower your stress levels (another contributor to hair loss) and rejuvenate your hair and scalp with some easy-to-follow steps.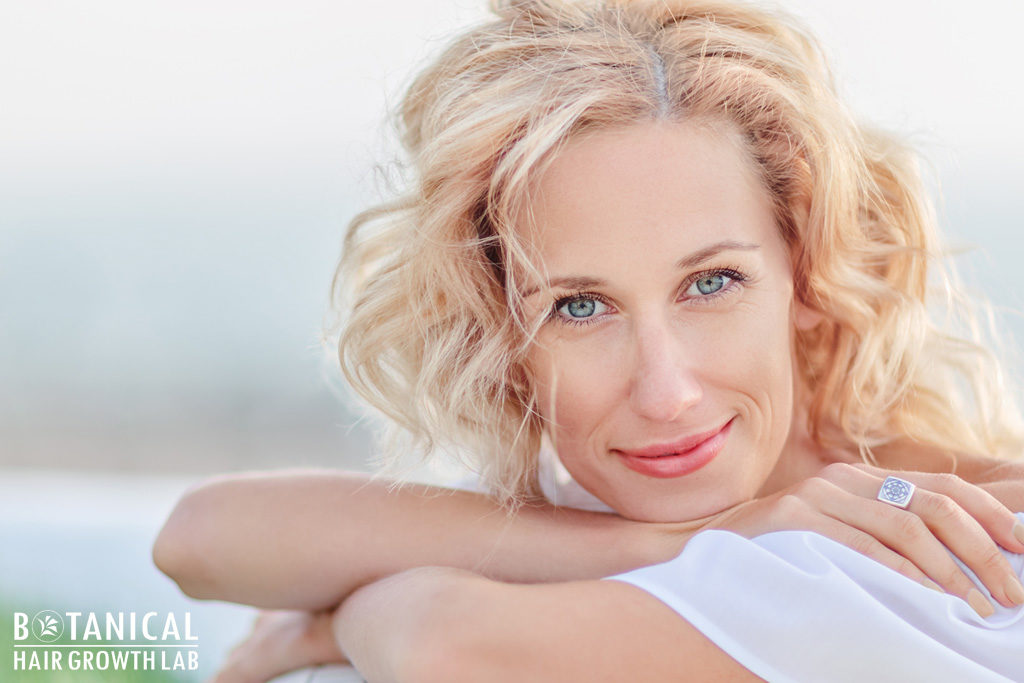 What Causes Hair Loss During Menopause?
First, let's talk about what is causing your hair loss during menopause. There are a few contributing factors making you lose hair when you start to go through this important reproductive shift:
Your hormones are changing
Your estrogen and progesterone levels drop during menopause. These hormones help your hair to stay in its growth phase longer. When estrogen and progesterone levels are high, women usually have full, thick, luscious hair. It's why so many women have great hair during pregnancy.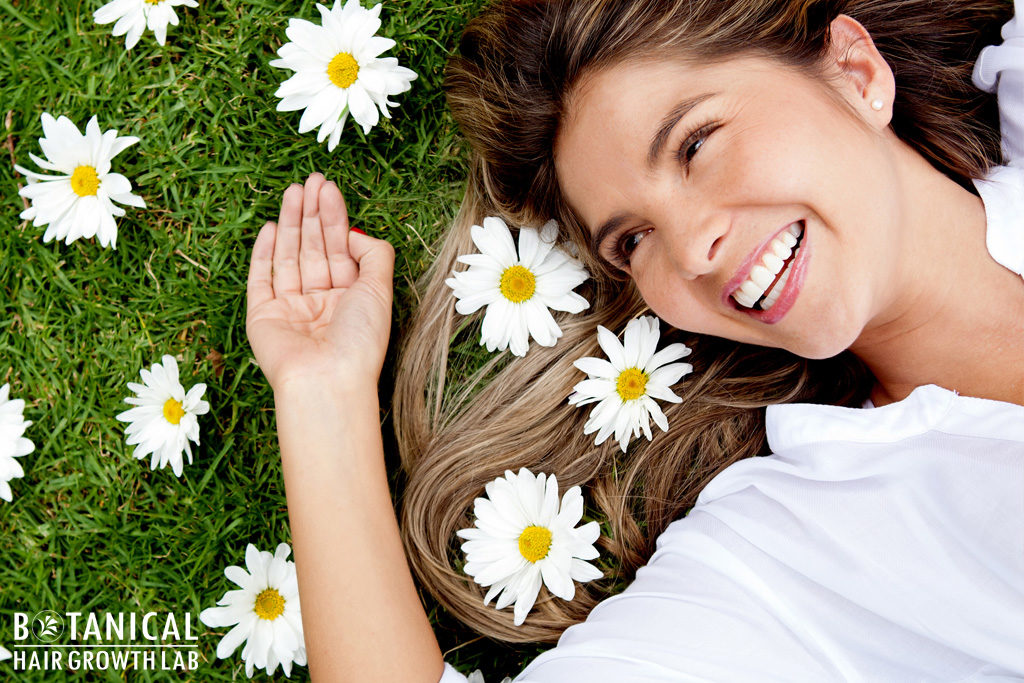 Estrogen helps to offset the presence of androgens (male hormones) that can lead to hair loss. When those hormones start to normalize after the baby is born, then they usually start to lose all that beautiful hair. About three months post-delivery, about 15% of the hair that was grown while pregnant will be gone. The same thing happens during menopause.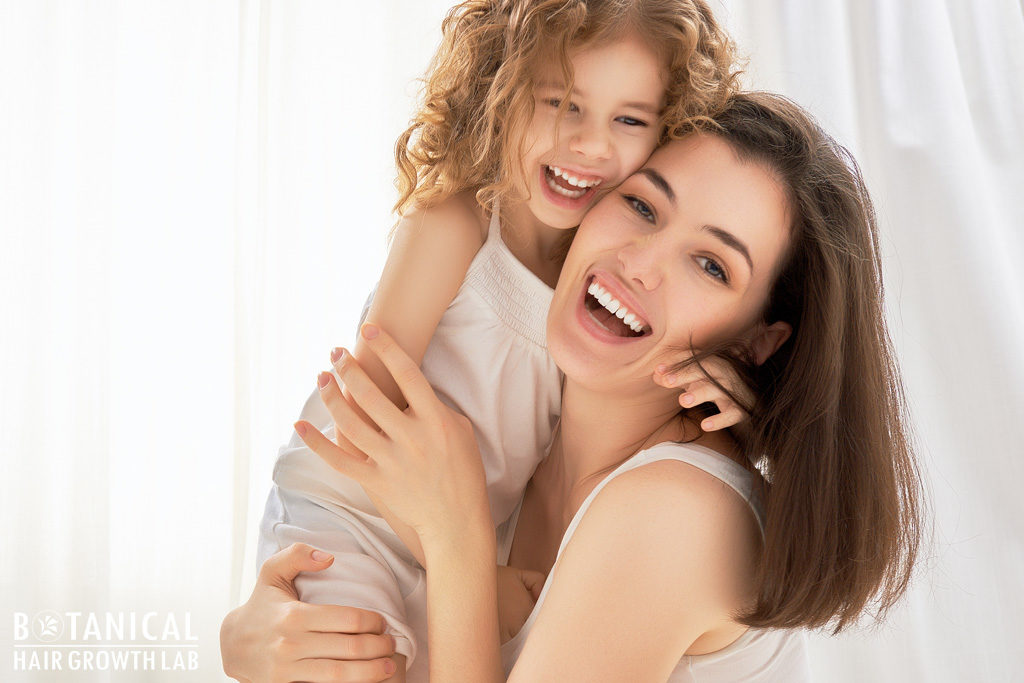 Progesterone can also decrease the presence of testosterone that is converted to dihydrotestosterone (DHT), a hormone that can cause hair loss by binding to cells in the hair follicles and eventually killing them.
Your hair normally returns to a normal growth/rest cycle after pregnancy but during and after menopause, you may need a little extra help for the hair growth phases to normalize.
You're stressed out
When we go through such a drastic physiological change – like menopause – it can cause stress. And here's the kicker – when you are already stressed out, and have a poor diet and don't get exercise, you're likely to enter menopause prematurely!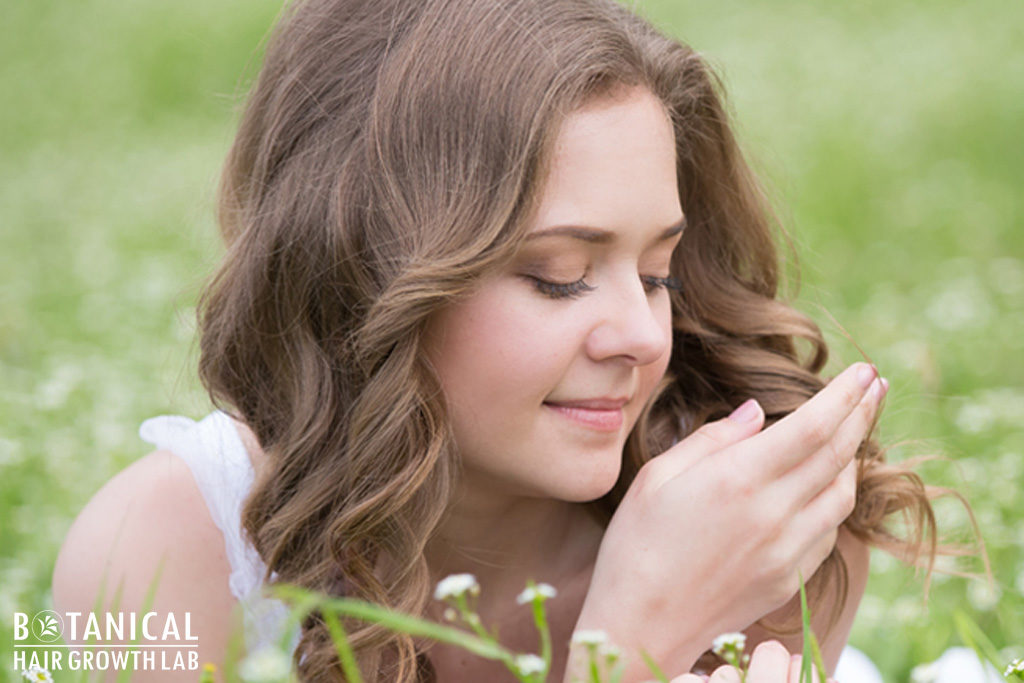 According the North American Menopause Society, hot flashes and disturbed sleep can make stress a chronic problem during menopause. It can cause high blood pressure, gastric distress, headaches, gastric reflux, depression, and yes – hair loss. It's imperative that you reduce stress during menopause not just to keep a beautiful head of hair, but to protect your health overall.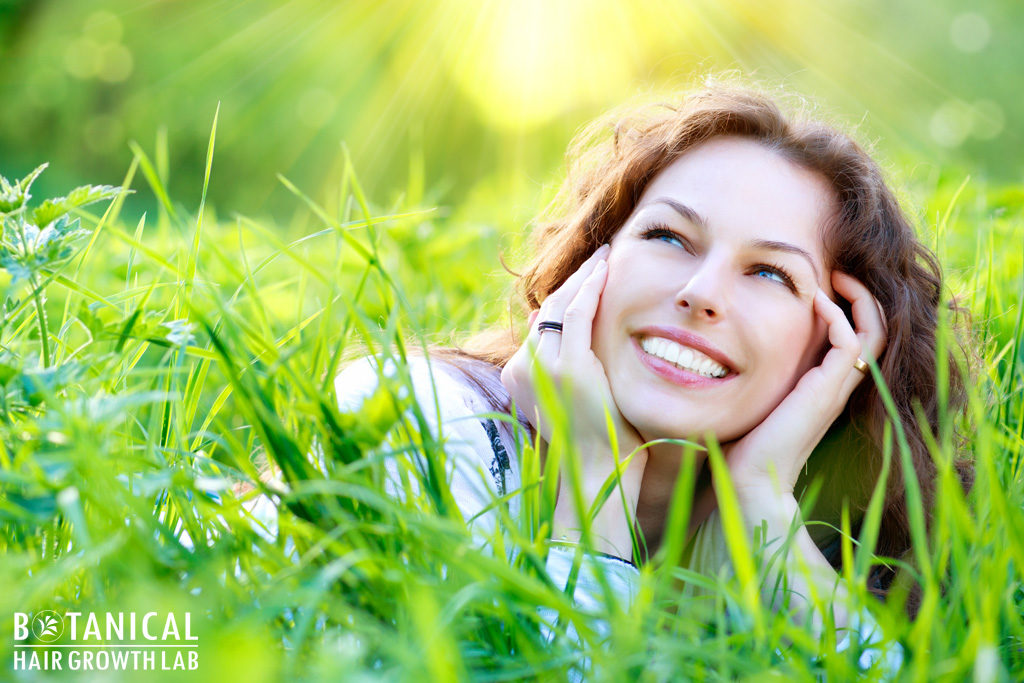 We'll share some ways to combat stress in as little as two minutes momentarily, but you can start with eating cleaner, getting 30 minutes of moderate exercise daily, spending time with uplifting friends and family members reducing your responsibilities, and avoiding caffeine. This can elevate cortisol levels (which also happen to wreak havoc on the hair growth, sending your hair follicles into the resting phase of the cycle.)
Your diet needs some attention
Menopausal hormonal changes and stress can contribute to another habit that harms your hair – eating in an unhealthy way. Without sufficient nutrients, your hair simply cannot grow. It is a living part of your body, and it needs vitamins, minerals, proteins, and healthy fats to thrive.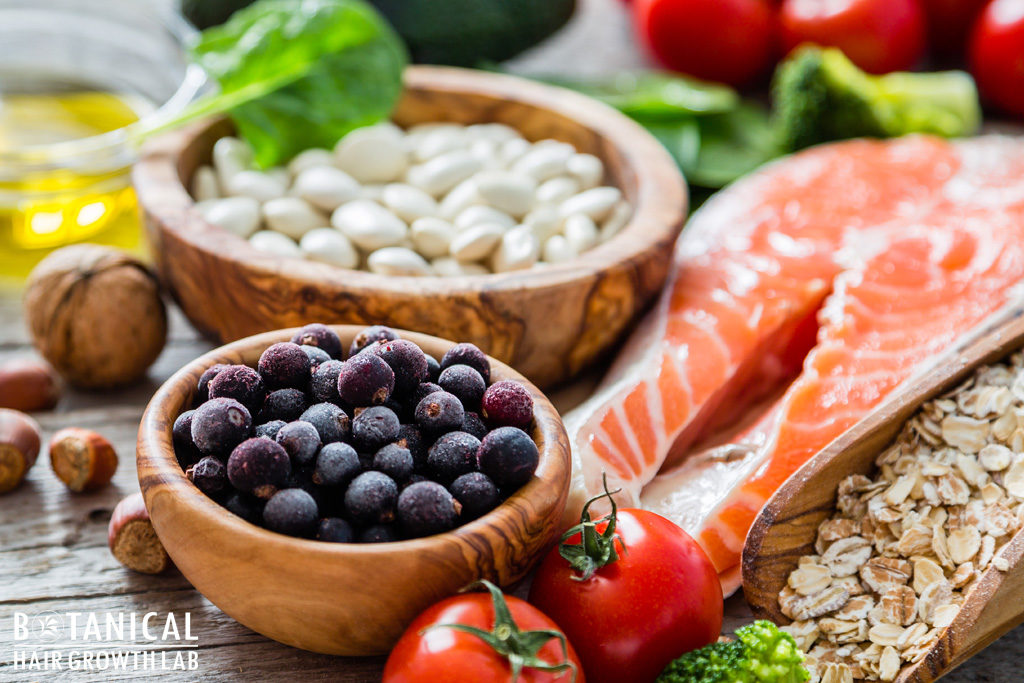 The more stressed out you tend to be, the less healthy you tend to eat and this can cause a vicious cycle leading to higher cortisol levels and even more lost hair.
How to STOP Hair Loss During Menopause
Now that you know what is causing your hair loss, let's talk about what you can do about it. By following a few easy steps and making a few daily changes, you can encourage your hair to enter the growth cycle again, and recover lost locks.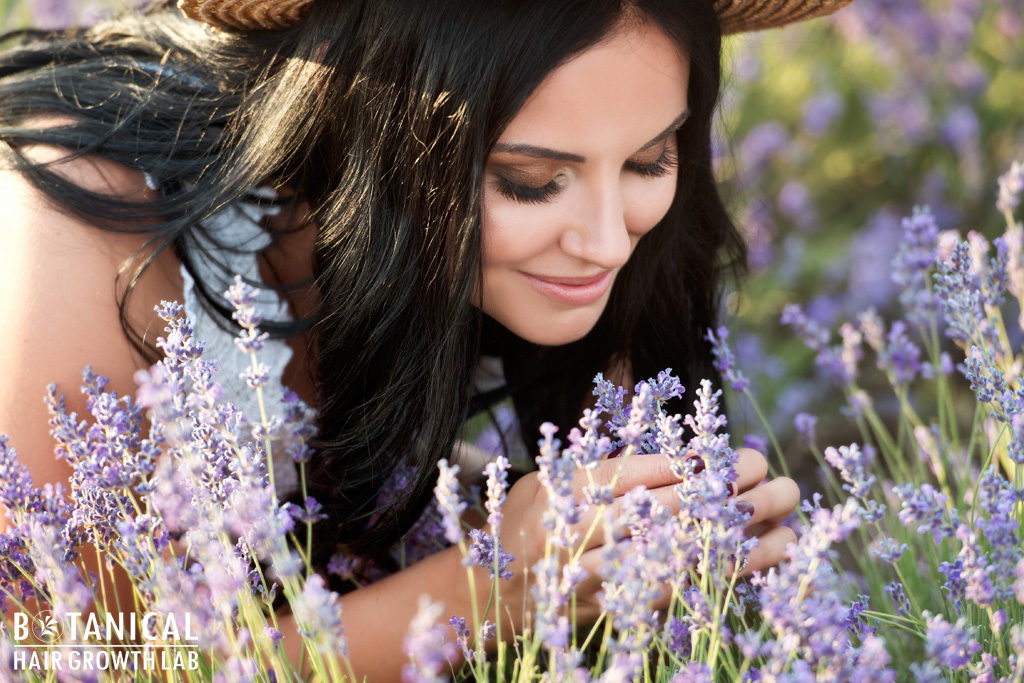 Combat Stress
There are three super-easy ways to combat stress.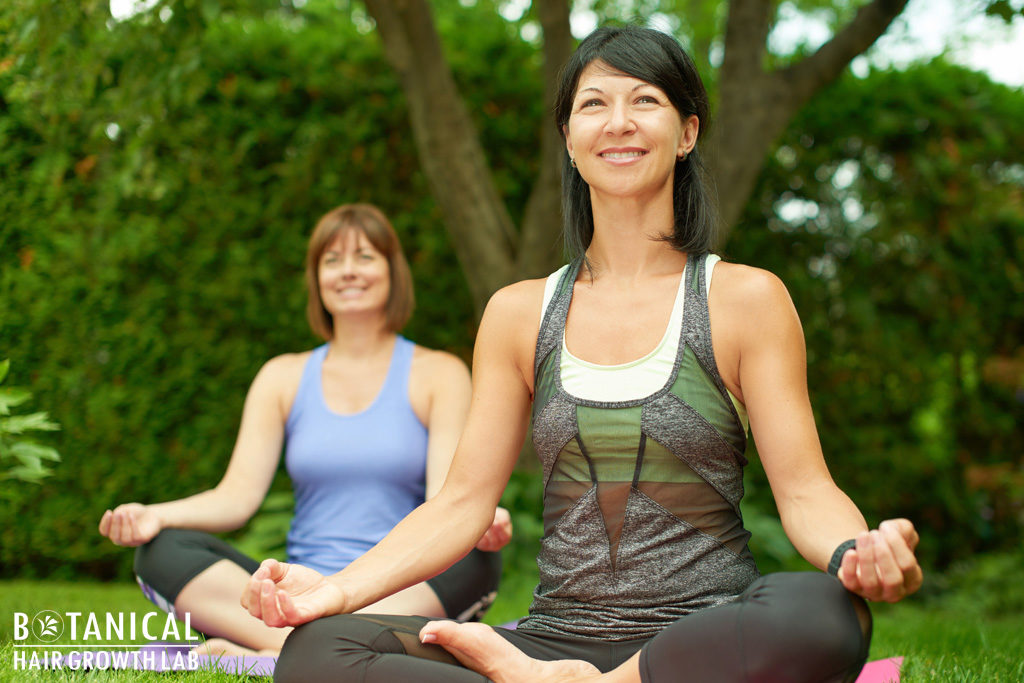 Meditate
Even if you've never meditated in your life, you can do this for five minutes. Find a comfortable place to sit or lay down where you won't be disturbed for 5 to 20 minutes. Take a deep, belly breath. Sit straight, with your shoulders relaxed away from your ears, and let your hands rest open in your lap, palms up so that you don't stimulate the nerve endings in your fingertips.
Close your eyes and begin to focus on your breath. Don't try to change your breath, just observe it. Notice the air entering and leaving your nostrils. Is it cooler going in on the exhale than it is on the exhale? Feel the rise and fall of your belly and chest. Every time you begin to think of something aside from the breath, acknowledge the thought without judgement – you can even label it "thinking" – and return your focus to the breath and the sensations you feel I your body as you breathe.
You can also download one of many meditation apps available now to practice a guided meditation. Try:
Stop, Breathe & Think
Omvana
Simply Being
Insight Timer
Buddhify
Calm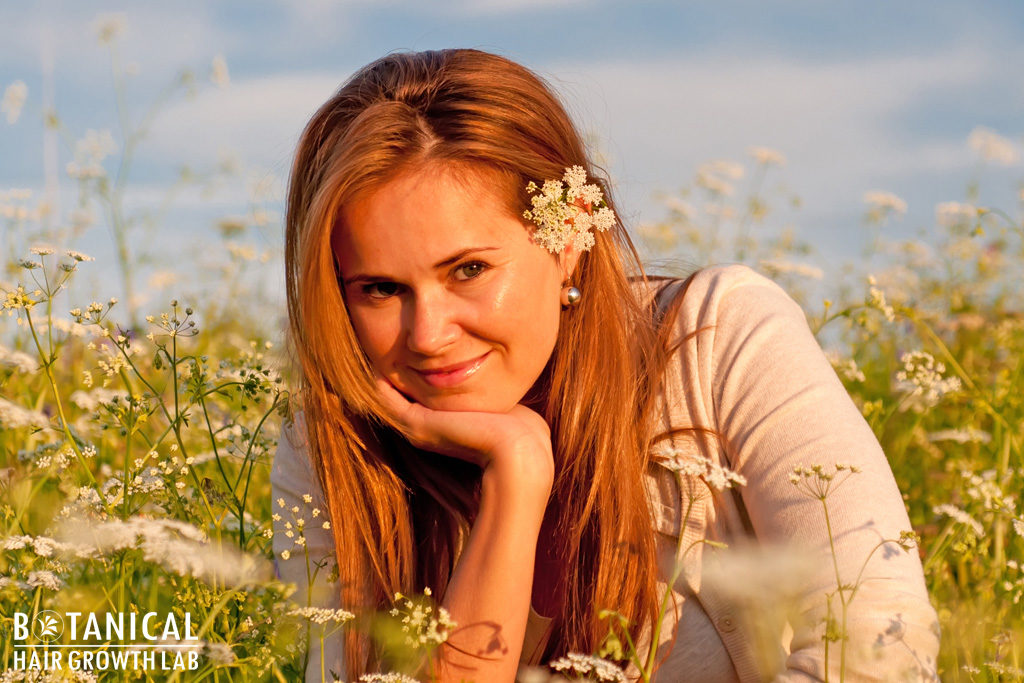 Spend time in nature
Just spending time in nature can reduce your stress levels. Research has revealed that spending time in green spaces reduces cortisol levels, improves heart health, combats depression and anxiety, and can instill a sense of well-being. It is thought that the colors of nature – blues and greens primarily, are calming to the soul, and the sounds of nature help our brainwave patterns to slow, which leads to feelings of calm and peace.
Breathe deeply & Exercise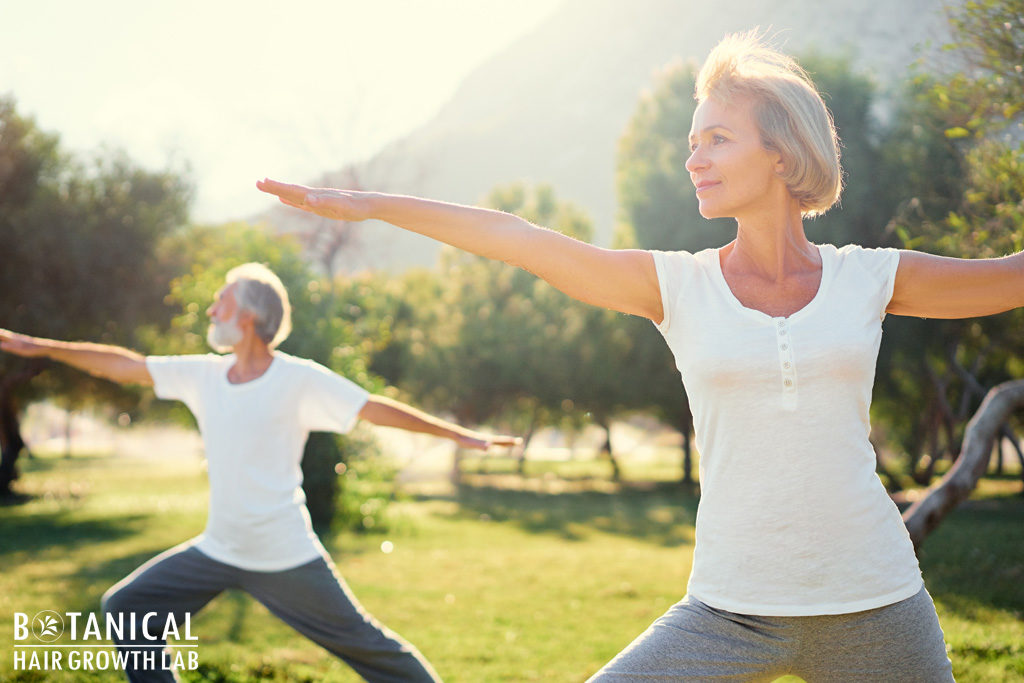 There are hundreds of studies now showing that how you breathe can drastically alter your stress levels and lower the stress hormones like cortisol and adrenaline that come with being in the "flight-or-flight" response frequently. Most of us breathe in a shallow way, barely using our full lung capacity all day, and thus cutting off oxygen to our cells, and our brain – and yes, even our hair follicles.
Try this: every time you are sitting in traffic or standing in line somewhere, take a deep breathe. Inhale through your nose and count to 7. Exhale through your nose and count to 14.
Use Botanically-Infused Hair Oils to Stop Hair Loss
To kick the effects of menopause on your hair you can also invite the help of Mother Nature. For example Botanical Hair Growth Lab's hair regrowth trio with Cayenne pepper and Saw Palmetto extracts gets straight to the hormonal issues causing your hair growth while also reducing inflammation of your hair follicles.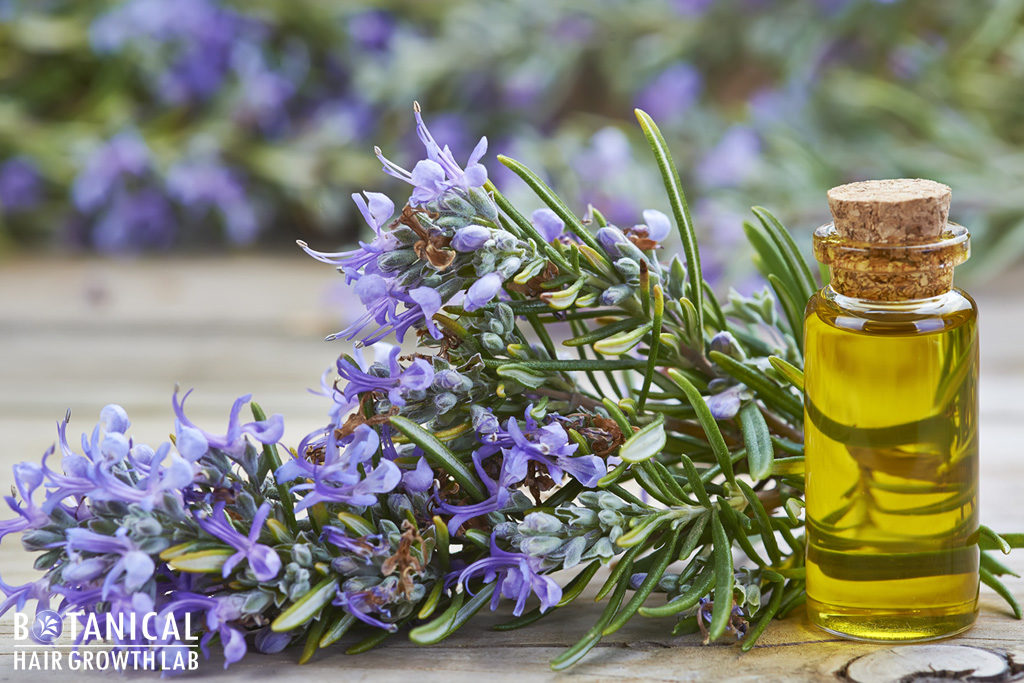 Our Hair Growth Cayenne & Saw Palmetto Value Set contains shampoo, conditioner, and a scalp rejuvenation tonic that puts the Cayenne and Saw Palmetto to work instantly.
An extract of Saw Palmetto can reduce the presence of 5-alpha reductase, an enzyme that converts testosterone to DHT.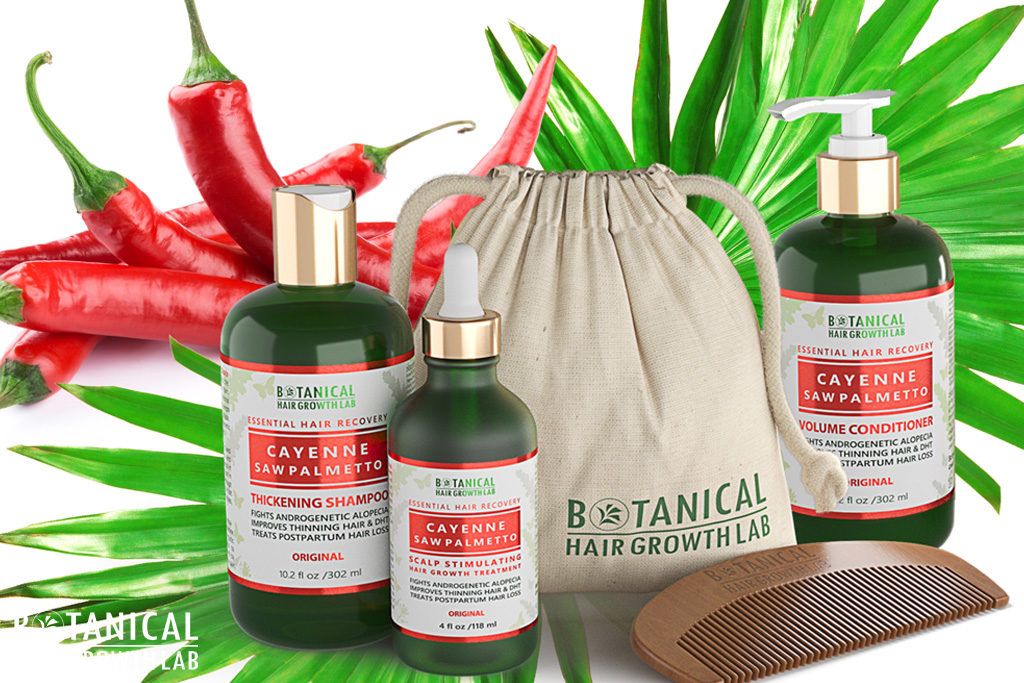 The cayenne pepper (capsaicin) in our hair loss remedies increases blood flow to the scalp to deliver the nutrient-dense shampoo, conditioner, and hair oil straight to the hair follicles where it is needed most to inspire lackadaisical hair follicles to start growing hair again.
Get Enough Plant-Based Protein, Healthy Fats and Phytonutrients in Your Diet
Hair is made of protein. All basic nutrients contribute to keeping us whole and healthy, but protein provides the building blocks that allow us to repair, replace, or grow bones, skin, muscles, and hair.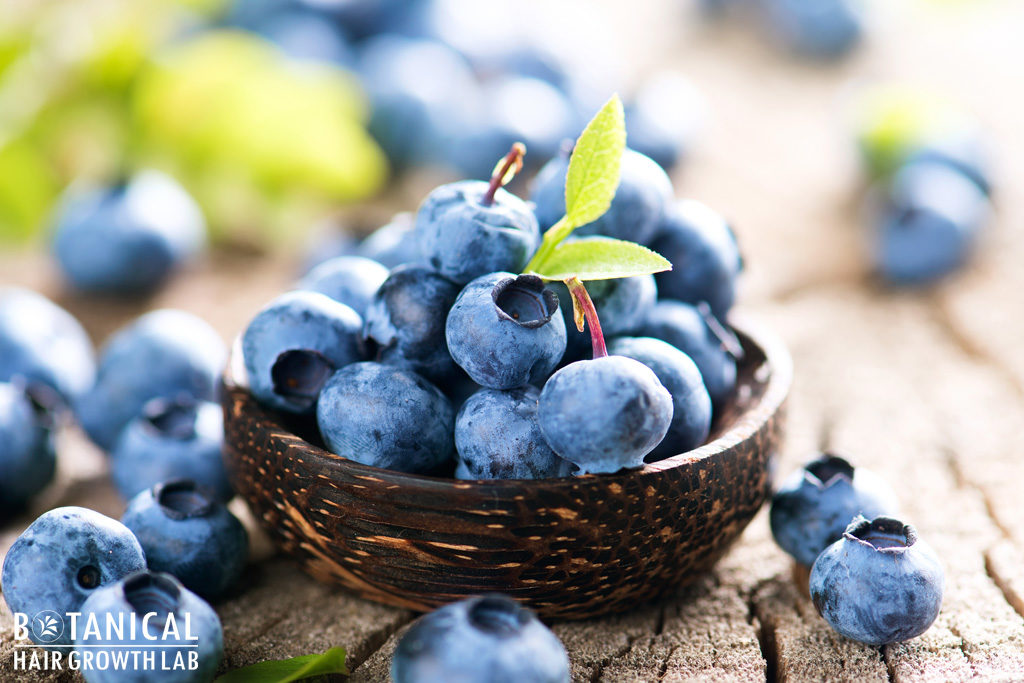 Without enough macronutrients, the rate of new hair growth slows. As hair is naturally shed, it won't grow back as quickly.
Starvation and lack of proper nutrition also depletes the body of other nutrients important for hair growth and quality. So stay away from fad diets and try adding the following healthy foods to your diet
Coconut oil, avocados, hemp seeds, and flax seeds for Omega 3 fatty acids
Leafy greens
Peppers
Cruciferous vegetables
Nuts and beans
Phytonutrient dense fruits like blueberries, goji berries, and pomegranates
Take a plant-based supplement to fill in nutrient gaps
Matcha green tea (full of catechins and phytonutrients)
Menopause doesn't have to mean that you lose your beautiful head of hair. Head over to Botanical Hair Growth Labs gorgeous product selection to remedy your hair loss today!